Road Tripping in a 2021 Audi RS 6 Avant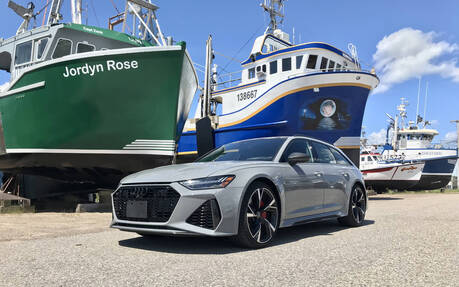 One silver lining in the COVID-19 pandemic is more opportunities to discover our beautiful country. This summer, I decided to explore some of the northern parts of Quebec through La Route des Baleines (Whale Route), which stretches along the St. Lawrence River from Tadoussac to Kegaska.
My main destination was Sept-Iles, a town of 28,534 people. My road trip car? A brand new 2021 Audi RS 6 Avant, a high-performance luxury wagon with 590 horsepower.  
Once a forbidden fruit in North America, the RS 6 Avant had many people on this side of the Atlantic jumping with joy when it finally arrived last year. A number of enthusiastic customers even ordered one without having the opportunity to see it or take a test drive first. Of course, they knew (nearly) everything about the car from European reviews and early impressions by Canadian journalists including yours truly (we spent some time behind the wheel in Malibu, California back in November 2019).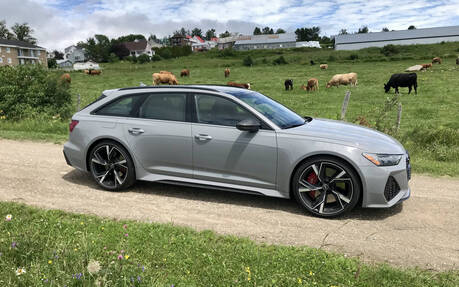 The Most Badass Wagon
The strikingly good-looking 2021 Audi RS 6 Avant is a lot more assertive and expressive than its predecessors. In fact, it's the most badass wagon on the market right now, with razor-sharp styling and widebody proportions that the Mercedes-AMG E 63 S Wagon or Porsche Panamera Turbo S Sport Turismo can't match.
It's an exceptional vehicle to say the least, and pricing reflects that. The RS 6 Avant starts at $120,400 in Canada, while my generously equipped tester for this road trip had a tag of $134,500.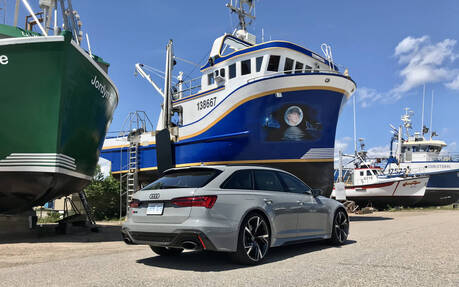 Sporty Yet Comfortable
Featuring heated/cooled sport seats with a massage function, dual-zone climate control and rear sunshades, the 2021 Audi RS 6 Avant is just as comfortable as any high-end luxury sedan. The RS Mode button on the flat-bottom, Alcantara-trimmed steering wheel is your shortcut for two customizable drive modes. You can program RS1 for sportier handling on wide-open country roads (or the track!) and RS2 for the smoothest possible ride. The car essentially transforms from Dr. Jekyll to Mr. Hyde at the push of a button.
That split personality proved to be a blessing during my road trip along the St. Lawrence River. The RS 6 Avant sliced every bit of Route 138 where I could let it rip, and then gently devoured long stretches of pavement that called for relaxed driving. With a twin-turbocharged V8 engine producing 590 horsepower and 590 pound-feet of torque, it made extremely short work of passing manoeuvres. Full-throttle acceleration is so strong and linear that I was able to overtake several vehicles at once on two-lane sections.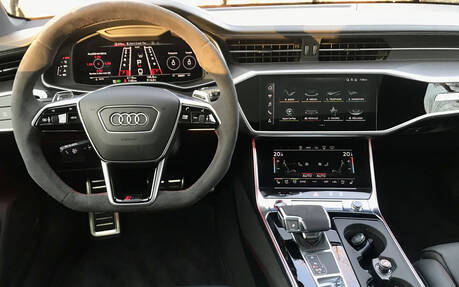 When equipped with the Dynamic Package, the RS 6 Avant boasts four-wheel steering enabling the rear wheels to turn a few degrees in the same direction as the front wheels to maximize high-speed stability including during quick lane changes. Whenever I got a little too carried away, I could always count on the 420-mm front and 370-mm rear steel disc brakes to promptly brush off speed.
My Biggest Fear
The tester's air suspension with electronically controlled dampers could be configured using the Audi Drive Select system. In Comfort mode, it delivered a pleasant ride even on the most damaged stretches of pavement along the way, although I was constantly monitoring the road to avoid the biggest potholes and cracks. I was terrified at the idea of puncturing one of the 185/30ZR22 Pirelli P Zero tires or warping any of the magnificent 22-inch alloy wheels. Thank God that didn't happen! I'm not sure I could have found replacement units in this part of Quebec.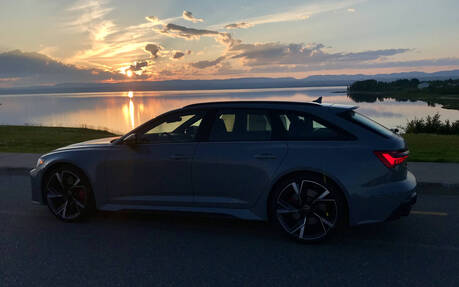 My road trip also revealed just how versatile and practical the Audi RS 6 Avant can be. Cargo capacity expands from 565 to 1,680 litres when you fold the rear seats down, and I particularly appreciated the safety net that deploys from a rear crossbar and attaches to the headliner to protect passengers in the event of a collision. As for fuel consumption, the car averaged 11.5 L/100 km over a total of more than 2,500 kilometres—not bad considering how often I tapped into its supreme performance potential.
Test drive report
Test model

2021 Audi A6

Trim level
RS6 Avant
Price range
$63,200 – $120,400
Price as tested
134 500 $
Warranty (basic)
4 years/80,000 km
Warranty (powertrain)
4 years/80,000 km
Fuel economy (city/highway/observed)
16,1 / 10,7 / 11,5 L/100km
Options
Steel brakes with red callipers ($500), Driver Assistant Package ($2,400), Dynamic Package ($2,950), RS Design Package in Red ($1,900), Carbon Optics Package ($6,350)
Competitive models
2021 Porsche Panamera Turbo S Sport Turismo, 2021 Mercedes-Benz E-Class AMG 63 S 4MATIC+ Wagon
Strong points

Fabulous performance
Excellent driving dynamics
Cutting-edge technology
Badass looks
Versatility

Weak points

Massive price
Expensive options
Significant weight
Low fuel economy

Editor's rating
Fuel economy
The car averaged 11.5 L/100 km over a total of more than 2,500 kilometres.
Comfort
Comfort is at a high level. The front seats are a treat.
Performance
Performance is nothing short of spectacular.
Infotainment
The displays look superb. Apple CarPlay is standard.
Driving
The best-driving wagon on the planet.
Overall
Versatility and world-class performance combined with wicked looks, what's not to like?