Ford Bronco Pickup Reportedly Nixed by Automaker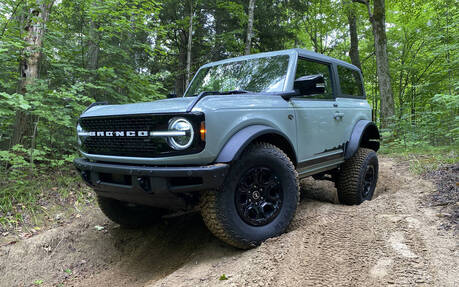 Well before the 2021 Ford Bronco made its debut last year, there was speculation that the new off-road SUV would eventually spawn a pickup variant. After all, Ford did it in the past and pickups are extremely popular these days, both in Canada and the U.S.
But now it appears all hope is lost. People familiar with the automaker's plans have told Automotive News that the projected introduction of an open-bed Bronco sometime in 2024 has been cancelled.
Ford informed its suppliers in recent months, the sources said, but doesn't want to come out with a public statement for the time being.
Production would have taken place at the Wayne, Michigan assembly plant alongside the two-door and four-door Broncos as well as the Ranger midsize pickup. In addition to the latter, Ford's pickup lineup includes the F-150, Super Duty and all-new Maverick.
A Bronco pickup would have squared off against the Jeep Gladiator. Its cancellation likely means that Ford prefers to bet on the Ranger's redesign (due in 2023), including the addition of a hardcore Ranger Raptor.
Speaking of which, a Bronco Raptor is currently in development. Same thing for the Bronco Hybrid we've been promised. One will directly rival the Wrangler Rubicon 392, while the other will be an answer to the Wrangler 4xe.
But before the Blue Oval can move forward, it needs to address some major Bronco issues including production delays and problems with hardtops supplied by Webasto.
Watch: 2021 Ford Bronco Fears No Terrain