Watch: All-electric Rivian R1T Doesn't Fear Water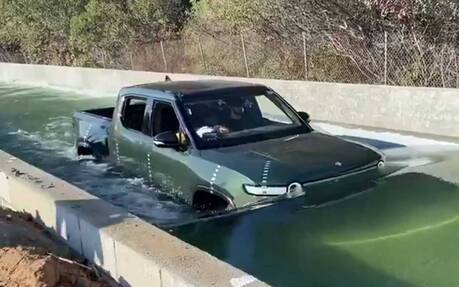 The brand new Rivian R1T electric pickup is finally about to land in driveways following multiple delays and postponements. In a recent video posted by Rivian CEO RJ Scaringe on Twitter, the truck shows another one of its impressive skills.
While water and electricity are typically a dangerous combination, the R1T doesn't mind getting wet at all, as evidenced by water fording tests conducted by Rivian engineers.
Our engineers going for a quick dip! pic.twitter.com/1FYukLXXZl

— RJ Scaringe (@RJScaringe) August 29, 2021
Not only is the EV architecture completely protected against water and still operating normally while submerged, but no leaks were found inside the vehicle despite water getting as high as the front light bar.
Officially, the R1T has a wading depth of "3+ feet" (90 centimetres) according to Rivian's website. That's the same capability as the Land Rover Defender, by the way. Jeep, meanwhile, advises Wrangler and Gladiator owners not to attempt water fording in excess of 2.5 feet (75 centimetres).
Rivian R1T in Canada
Rivian R1T deliveries to U.S. customers will begin in September, making it the first long-range electric pickup on the market ahead of the Tesla Cybertruck, GMC Hummer EV, Ford F-150 Lightning and many others.
Powered by four electric motors, the R1T generates up to 750 horsepower and 829 pound-feet of torque, sprints from 0-60 mph (96 km/h) in just three seconds and has max towing capacity of 11,000 pounds.
In Canada, deliveries are scheduled to begin in November for the Launch Edition ($97,250), which is already sold out. Explore ($90,000) and Adventure ($97,250) models will follow in January 2022. Range is estimated at 480 or 640 kilometres depending on the battery, with the larger-capacity unit requiring a premium of $14,000. All these prices are subject to change between now and delivery, mind you.