2022 Porsche 911 GT3: Exhilarating Times at Circuit Mont-Tremblant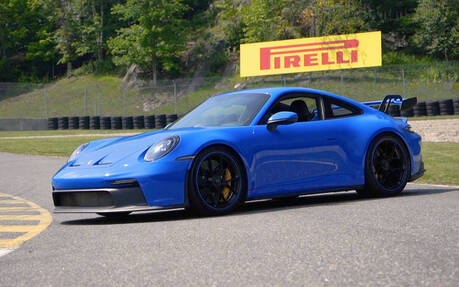 The new Porsche 911 GT3 sports car was developed with the help of Porsche's motorsport team. It continues to be powered by the fabulous, naturally aspirated 4.0-litre flat-six engine with a 9,000-rpm redline, but gets a double-wishbone front suspension derived from the Le Mans-winning Porsche 911 RSR.
We spent several days testing and pushing the 911 GT3 both on the road and at Circuit Mont-Tremblant in Quebec. All the magic can be seen in the video just below.
Wicked Looks
First things first, the new GT3 looks absolutely stunning with the available Shark Blue paint and accents on the headlights and wheels. In true Porsche fashion, the list of options is extremely long and expensive—the Porsche Carbon Ceramic Brakes with yellow callipers alone cost $10,510. While the 2022 911 GT3 starts at $180,300 in Canada, our tester was priced at $222,340.
The interior comes with available sport seats, carbon fibre trim and Chrono Package with lap timer. On the steering wheel is a rotary selector with multiple drive modes including Track, as well as paddle shifters for the optional seven-speed PDK transmission.
The shifter on the centre console resembles that of a conventional manual transmission (a six-speed manual comes standard with the 911 GT3). Globally, only 40 percent of customers select the stick shift, but in North America the proportion increases to 70 percent.
While the centre display is a bit small, the menus are intuitive and have all the information you need, plus Apple CarPlay is included. There are no rear seats, only carpeted storage. As for the fixed rear wing, it's replaced by an active spoiler on the 911 GT3 Touring.
Epic Engine
The naturally aspirated 4.0-litre flat-six cranks out 503 horsepower at 8,400 rpm and 346 pound-feet of torque at 6,100 rpm. As mentioned earlier, it can rev all the way to 9,000 rpm. Epic stuff.
On the track, you need to remain between 5,500-8,500 rpm in order to make the most of this mechanical masterpiece and revel in the exquisite sound effects that come with each forward surge. Sure, the 911 Turbo S has more power and torque, but the unique growl of the GT3 at full throttle is a thrilling experience that easily justifies the car's price.
In case you forgot, the GT3 and GT3 RS are the only naturally aspirated 911s left in the Porsche lineup—all the others are now turbocharged. Naturally aspirated engines such as this one are bound to disappear in the near future because it's getting harder and harder to comply with emissions standards. However, Porsche engineers have done a remarkable job improving the GT3's efficiency and cleanliness.
Our tester was actually a Euro-spec model with a particulate filter in the exhaust system, somewhat dialing down the aural pleasure of this sports car. All models to be sold in North America will be devoid of said filter and therefore even more expressive than what you can hear in the video above.
Top-level Dynamics
The new double-wishbone front suspension and wider front track make the 2022 Porsche 911 GT3 super-sharp when attacking corners and stable when clipping apexes. The suspension is a game-changer on the track, but it also makes daily driving on public roads more comfortable.
Once again, the available Porsche Carbon Ceramic Brakes proved extremely strong and capable, adding to the fun factor, while the available sport seats in carbon fibre-reinforced plastics delivered outstanding lateral support in corners yet still remained comfortable after a three-hour drive.
At the end of our lapping session at Circuit Mont-Tremblant, we analyzed the data and found out that the 911 GT3 had achieved 1.40 g's of lateral acceleration in one of the left-hand turns and 1.34 g's in a right-hand turn. Of course, these figures are higher than they would normally be on a flat surface since Tremblant has a number of banked turns.
Our Verdict
The 2022 Porsche 911 GT3 is just a phenomenal car with an epic, naturally aspirated engine and top-level dynamics. We know that Porsche engineers are currently working on the next GT3 RS, which should raise the bar even higher, but for now the new GT3 is Porsche's finest work and the car that best captures the spirit of the Stuttgart-based automaker. 
Test drive report
Test model

2022 Porsche 911

Trim level
GT3 PDK
Price range
$115,000 – $250,200
Price as tested
22 340 $
Warranty (basic)
4 years/80,000 km
Warranty (powertrain)
4 years/80,000 km
Fuel economy (city/highway/observed)
N/A
Options
Shark Blue paint ($4,820), Shark Blue topstitching ($7,100), Chrono Package ($630), 90L fuel tank ($260), Porsche Carbon Ceramic Brakes with yellow callipers ($10,510), Satin Black wheels with Shark Blue accents ($2,220), LED headlights with Shark Blue accents ($1,850), Sport seats ($6,740), Shark Blue seat belts ($410), Interior Carbon Fibre Package ($1,820)
Competitive models
2022 Acura NSX, 2021 Aston Martin Vantage, 2021 BMW 8 Series, 2021 Audi R8, 2022 Chevrolet Corvette, 2021 Ferrari Roma, 2021 Jaguar F-TYPE, 2021 Lamborghini Huracán, 2021 McLaren GT, 2021 Nissan GT-R
Strong points

Fabulous naturally aspirated engine
Highly effective PDK transmission
Top-level dynamics
High-performance brakes
Wicked looks

Weak points

Expensive sports car
Expensive options
Very limited availability
Sport seats are not ideal for daily driving

Editor's rating
Fuel economy
You have to pay to play.
Comfort
A lot of noise enters the cabin, but the adaptive front suspension is great.
Performance
Spectacular is the word you're looking for. Expect goosebumps at full throttle.
Infotainment
The display is small, but the menus have all the information you need.
Driving
Nothing short of a perfect score.
Overall
The new 911 GT3 is simply stunning.