2021 BMW M3: Beyond the Grille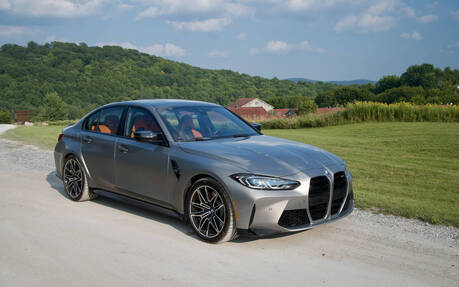 We won't waste any time addressing the elephant in the room, namely the oversized double-kidney grille that looks more like a beaver's teeth on the new 2021 BMW M3 and M4.
This is a styling direction that BMW first introduced with the Concept 4 at the 2019 Frankfurt Auto Show. The bold, in-your-face grille will be applied to some of the company's sportier models as well as its electric vehicles going forward.
Unsurprisingly, many fans have voiced their disgust on social media, with some purists calling the new design pure blasphemy. Remember, there was plenty of controversy when the Chris Bangle-designed BMW 7 Series launched in 2002, but since the Web was nowhere near as big at the time you didn't hear about it as much as the grille imagined by new BMW design director Domagoj Dukec.
We'll let you make your own opinion about the M3 and M4. One thing's for sure: you can't see the grille when you're driving!
Fabulous Straight-six Engine
Driving really is the best part of the new M3. BMW is a master at developing powerful and expressive engines, and the fabulous S58 straight-six engine that was inaugurated in the latest X3 M and X4 M crossovers is obviously on duty here. There are two output levels, actually: the base M3 delivers 473 horsepower and 406 pound-feet of torque, while the M3 Competition packs 503 horsepower and 479 pound-feet of torque thanks to increased turbo boost.
Our tester happened to be equipped with a manual transmission, making the experience even sweeter. As you know, the stick shift is a dying breed—a lot more people today prefer conventional automatic or dual-clutch transmissions, which often have more forward gears thus benefitting performance and fuel economy.
In the M3's case, you have the choice of a six-speed manual or an eight-speed automatic. Rowing your own gears is a unique treat even though it requires more work from the driver. It enables a closer connection between man and machine.
Enhanced Dynamics
The 2021 BMW M3 combines a strong and lively engine with a transmission that sends power to the rear wheels only. The clutch pedal is heavy and the shifter feels a bit rubbery, but that won't prevent you from quickly finding your groove especially on side roads where the car is more than happy to play.
The chassis is extremely rigid thanks in part to front strut tower braces, while the suspension and steering are tuned for supreme responsiveness. Handling is further enhanced by super-aggressive tires. Our only complaint is the extra weight put on by the new M3, which somewhat dilutes the essence of this performance halo.
Beyond the giant grille, the sixth-generation M3 is a pretty attractive sports sedan with flared fenders, large diffuser, quad tailpipes and rear spoiler. The interior is no less sporty with tremendously supportive seats and a steering wheel that features M1 and M2 buttons for accessing your preferred settings with just one push.
Our Verdict
The 2021 BMW M3 starts at $84,300 in Canada. With a few options and packages added to the mix, our tester retailed from $96,150. While it lives up to the reputation set by previous generations, the new model has gotten fatter and heavier like all modern cars filled with advanced technologies.
And then there's the look up front, which borders on caricature and might scare a few potential buyers. We say: just drive it.
Test drive report
Test model

2021 BMW 3 Series

Trim level
M3
Price range
$44,950 – $88,300
Price as tested
96 150 $
Warranty (basic)
4 years/80,000 km
Warranty (powertrain)
4 years/80,000 km
Fuel economy (city/highway/observed)
14,6 / 10,8 / 12,4 L/100km
Options
Premium Package ($6,000), Aluminum fabric trim ($500), Oxide Grey Metallic paint ($1,450), Full Merino Leather interior ($4,000)
Competitive models
2021 Alfa Romeo Giulia Quadrifoglio, 2022 Cadillac CT5 V Blackwing, 2022 Lexus IS 500, 2021 Mercedes-Benz C-Class AMG 63 S Avantgarde Edition Sedan
Strong points

Fabulous straight-six engine
Rigid chassis
Precise steering

Weak points

High price
Expensive options and packages
Heavy weight

Editor's rating
Fuel economy
This is not where the new M3 shines.
Comfort
The ride is firm, but it's not as bad as you think on rough pavement.
Performance
Wonderfully explosive.
Infotainment
The infotainment system is fairly user-friendly whether using the touchscreen or the rotary dial and buttons on the centre console.
Driving
Fun times behind the wheel are always a sure thing.
Overall
The new M3 is an exceptional performer. The high price and massive front grille might scare a few potential buyers, though.