Ford EcoSport to be Discontinued in Mid-2022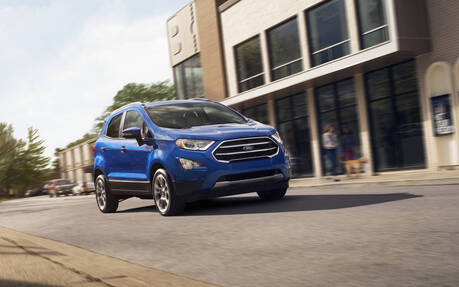 The Ford EcoSport is one of the least liked SUVs in North America for many reasons. Now we've learned the company is about to put it out of its misery, with exports to the U.S. and Canada ending in mid-2022.
This comes on the heels of Ford's decision to shut down manufacturing operations in India in the coming months. And there's absolutely no plan to turn to the Romanian factory that will continue to serve the European market.
Ford Canada communications manager Rose Pao said the timing will be the same on both sides of the border. Dealers will sell remaining EcoSport units through the second half of 2022.
Launched in Canada and the U.S. in 2017 as a 2018 model, the foreign-designed and built Ford EcoSport has never really been able to satisfy the wants and needs of consumers out here. At the same time, the competition in the small SUV segment has gotten extremely fierce in recent years with big guns like the Subaru Crosstrek, Mazda CX-30, Hyundai Kona and Kia Seltos.
During the first half of 2021, Canadian sales were down 31.7 percent from the same period in 2020, when the COVID-19 pandemic hit the economy the hardest. In the U.S., the EcoSport slipped 12.7 percent in the first six months.
Ford will have a much easier time attracting budget-minded customers with the all-new Maverick pickup, which goes on sale in a few weeks and will become the brand's new entry-level model in the future. Equipped with a standard hybrid powertrain, the Maverick (MSRP starting at $25,900) is barely more expensive than the tiny EcoSport ($25,299).
If you're still interested in buying a Ford EcoSport, you should know the base engine is a turbocharged 1.0-litre three-cylinder that produces 123 horsepower and 125 pound-feet of torque. Alternatively, there's a naturally aspirated 2.0-litre four-cylinder engine putting out 166 horsepower and 149 pound-feet of torque.
Watch: 2022 Ford Maverick is the New Cowboy in Town