2021 Porsche Macan GTS: If You Can't Wait for the 2022 Refresh…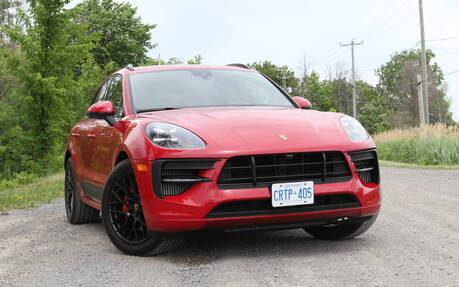 Just a few days after our test drive of the 2021 Porsche Macan GTS, the company announced a mid-cycle update for the 2022 model year.
No major changes are in store. However, one of the most fun to drive SUVs on the market is about to become even more stylish and more pleasant. Look for some cosmetic tweaks, while more important revisions can be found under the hood.
The lineup retains the base, S and GTS models, but the top-line Macan Turbo is (temporarily) gone. The entry-level four-cylinder engine gets a boost from 248 to 261 horsepower, and the 3.0-litre V6 is replaced by a 2.9-litre unit. That means the 2022 Macan S inherits the 375-horsepower engine from the 2021 Macan GTS, while the new GTS receives the Turbo's 434-horspepower mill.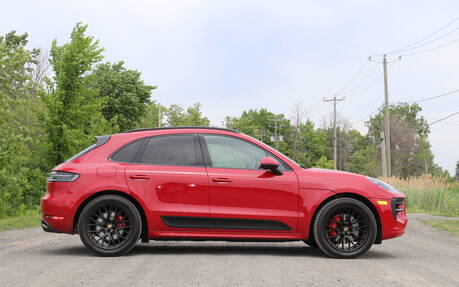 Don't worry about the Macan Turbo: it will be back next year with more power than ever, possibly around 500 horsepower. How about that?
Still on Top
It only took a few kilometres behind the wheel of the 2021 Porsche Macan GTS to confirm that it still boasts class-leading handling, living up to the German manufacturer's reputation for building sporty cars.
Blessed with a particularly sharp chassis, the Macan GTS is a real treat for driving enthusiasts. Unlike many SUVs that try to appeal to sporty drivers but lose credibility in corners, this one impresses at every turn.
Porsche has gifted its compact SUV with a razor-sharp steering system that provides tremendous feedback on the road. Picking up speed doesn't overwhelm the front wheels as control and precision remain excellent. The rear end is similarly docile and contributes to a lively, nimble package. The GTS model takes all these beautiful attributes to the next level.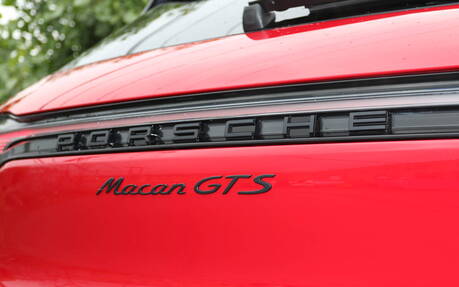 On the flip side, the Macan delivers a rather stiff ride that might pose a problem if you regularly drive on poorly maintained roads, preventing you from enjoying its superb dynamic potential. Also, the brakes lack some bite in the early part of the pedal stroke. If you hit it hard enough, you don't have to worry about a thing.
As mentioned earlier, the 2021 Macan GTS is motivated by a 2.9-litre V6 cranking out 375 horsepower along with 383 pound-feet of torque, the latter from 1,750-5,000 rpm. It's a potent yet flexible engine that produces strong acceleration in just about any situation. The sound makes it even sweeter, especially when you adjust the variable exhaust system using the button on the centre console.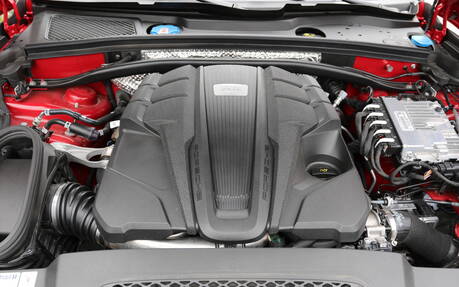 The PDK dual-clutch transmission is equally satisfying. It's a smooth operator in relaxed driving, but it can also shift gears with lightning speed via the paddle shifters on the steering wheel.
Neatly Finished
The solid construction and high-quality materials of the Macan GTS gave us no reason to complain. We didn't hear the slightest cracking noise throughout the week, even on bumpy roads, which is a testament to Porsche's rigorous manufacturing standards.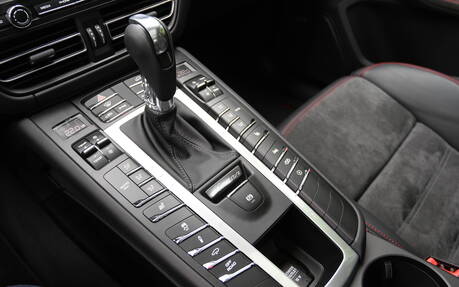 Ergonomics are generally good, but the many buttons surrounding the shifter require some getting used to. Will the new touch surface operating concept found in the upcoming 2022 Macan prove any better? We'll have to wait and see.
The sport seats in our tester delivered proper support, and the multiple adjustments helped in finding the ideal driving position. There's adequate space up front, but not so much in the rear where legroom could be more generous (if there's a tall driver in front of you, good luck). Cargo capacity isn't impressive, either, with just 488 litres behind the rear seats.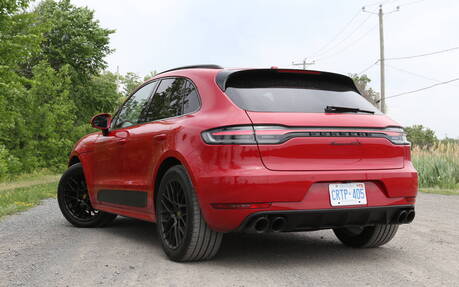 Overall, the 2021 Porsche Macan is a highly accomplished and desirable product. You won't find another compact luxury SUV that's more fun to drive. There's a pretty steep price to pay, however—our tester cost $102,590 with the various extras thrown into the mix.
You could select a base Macan or Macan S, but prepare to check a few boxes in the large catalogue of options and packages. The 2022 model promises improved performance at a lower cost. It can be ordered now starting at $58,500, with deliveries scheduled  to begin early next year.
Test drive report
Test model

2022 Porsche Macan

Trim level
GTS
Price range
$57,800 – $96,500
Price as tested
79 200 $
Warranty (basic)
4 years/80,000 km
Warranty (powertrain)
4 years/80,000 km
Fuel economy (city/highway/observed)
13,5 / 10,5 / N/A L/100km
Options
N/A
Competitive models
2021 Audi Q5, 2022 BMW X3, 2021 Acura RDX, 2021 Alfa Romeo Stelvio, 2021 Volvo XC60, 2021 Infiniti QX50, 2021 Mercedes-Benz GLC, 2021 Jaguar F-PACE
Strong points

Strong, high-character engine
Top-flight driving dynamics
Sharp steering
Superbly executed cabin

Weak points

Stiff ride
Small trunk
High price

Editor's rating
Fuel economy
The Macan doesn't shine in this area.
Comfort
While comfortable, the seats can't make up for the stiff ride on rough pavement.
Performance
The V6 is strong and responsive at all times.
Infotainment
The system works well overall, but could be more intuitive. The high-resolution graphics deserve praise.
Driving
A perfect score resulting from the Macan's flawless handling and sharp steering.
Overall
If you don't mind the steep price and the stiff ride, you're in for a real treat, especially if you love sporty driving.