2021 Ford F-150 Lariat PowerBoost: For that Added Pick-Me-Up
There's never been an F-150 I didn't like. Truth be told, pickups are not my lifestyle choice of vehicle, but I definitely don't dislike my weeks behind the wheel of said vehicles. Sure, they are large and generally heavy on gas, but they are so incredibly practical (even for the smallest of tasks), that I end up enjoying every minute behind the wheel.
Well, the Ford hybrid PowerBoost did not disappoint from its added onboard power to technical doodads in the cabin all the way to its super practical outboard power source for exterior work, everything about this particular F-150 screams work (with some added play possible).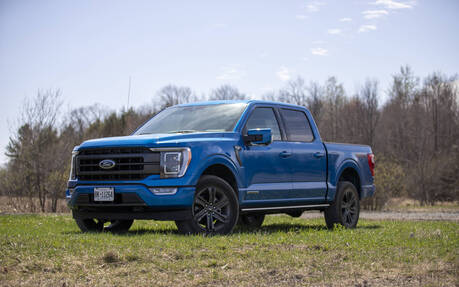 What gives the PowerBoost its extra oomph?
We've all known about Ford's F-150 EcoBoost for a few years now. Well, this PowerBoost takes that version and pumps it up just a little bit more. Equipped with a 3.5L twin-turbo V6 paired with a 35 kWh battery, the PowerBoost produces 430 horsepower and 570 lb-ft of torque. That puts it at the top of its class in terms of power, beating out the V8 Chevrolet Silverado and GMC Sierra by 10 ponies. It even beats out the F-150 3.5L EcoBoost with 70 lb-ft more torque over its brethren.
Everything is controlled via a 10-speed transmission - but I'll get to all of that in a moment.
What's extra cool about the PowerBoost F-150 is the ProPower Onboard battery, a 2.4 (or 7.2) kW battery that is used to power auxiliary outlets in the bed and cabin to plug in accessories or even tools. Plus there is an additional 1.5 kWh battery beneath the rear passenger cabin space, although it doesn't eat into the interior space at all.
All batteries recharge as you drive using regenerative braking to recapture energy and help power batteries.
Powerfully boosted on the Drive
When it comes to driving the Lariat PowerBoost, I was pleasantly surprised with the overall performance of the truck. Sure, it's a heavy vehicle, but that's barely noticeable once you put that right foot down and the twin-turbo V6 coupled with that battery come together to create a lovely almost linear acceleration.
Now, for anyone who knows me they'll be aware that I often have a heavy right foot, which sends me to the pumps often to fill up, especially with larger-engined cars/trucks. However, such was not the case with the PowerBoost.
Despite multiple highway trips, long country drives and stop-and-go suburban jaunts, I managed to average just over 11 L/100km. Now, that's a litre or so below what Ford claims the PowerBoost can do (combined), which is very good for a vehicle that has the ability to tow up to 12,700lbs.
Now, of course, I admit I did not tow with the F-150. I did,however, roll quite a bit in full battery mode. Especially around my suburbs. The transition from battery to gas engine is relatively seamless. Of course, there is a bit of jolt and rumble but that's to be expected.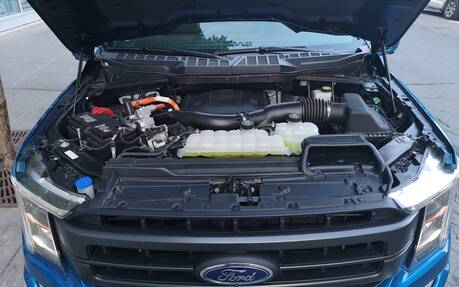 The Not-So Powerful Bits
Now, there are a few foibles with the PowerBoost drivability, after all nothing is ever perfect! Sadly, the 10-speed transmission just felt clunky. It's not the first time I've experienced this in a 10-speed Ford. It's as if the truck is trying so hard to rush through first, second and third gear that it slips up and jumps. Same can be said for when it downshifts. It's a little off-putting and doesn't make for the smoothest in-city commutes.
Another downfall of the F-150 PowerBoost is its payload. At just over 2,000 lb, it is the smallest capability in its class. Also, the 5.5" bed isn't exactly the most practical for those using their pickup to really haul equipment and/or supplies. Of course, that can be made larger when the truck is spec'd out at the dealer - we all know trucks can be created in a myriad of ways and the possibilities are nearly endless.
Gadgets and Gizmos Galore
Thankfully, the PowerBoost makes up for its shortcomings in the drive with a loaded cabin and bed.
By far the coolest feature in this pickup is something Ford refers to as the Interior Work Surface. Essentially, it turns the middle armrest and gear shift area into a functional table. With the click of a button, the shifter descends into the centre stack and the armrest can be folded out into a completely flat usable table. Now, this is a $400 option, but, in my opinion, if you are using your F-150 PowerBoost as a working vehicle, then this is worth every extra penny.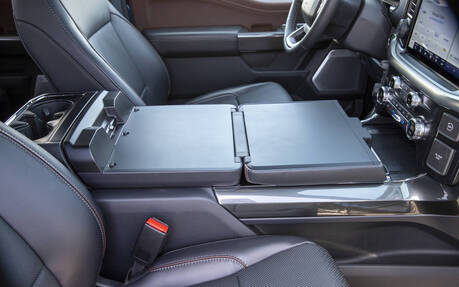 Otherwise, the interior of this pickup is pretty standard fare. Though I will say I adored the large colour touchscreen and could even forgive Ford's onboard SYNC system as it is by far the easiest iteration I've used in quite some time. Plus, hooking up Apple CarPlay is an absolute breeze. All necessary buttons and commands are also located on the steering wheel, and of course there is Bluetooth voice command as well, should you wish to learn all the specific terms and commands.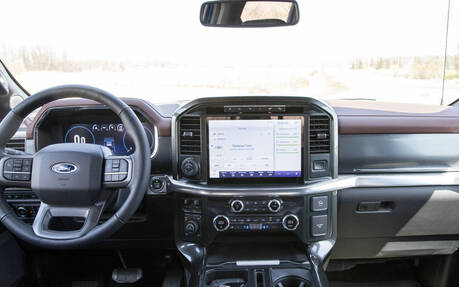 There's interior space galore up front and in the rear. My son never complained about legroom and had lots of space for school bags, and other gear. The two-tone leather and stitching are a nice touch thanks to the Lariat trim level, and even though it may seem fancy, it would be rather easy to maintain if you were to use your PowerBoost as a working truck, especially with black floor mats and darker leather seats.
When it comes to cool exterior features, the PowerBoost has plenty of those, too. My favourite? The automatic side rails that appear when the doors are open. My 5'2" self greatly appreciated not having to grapple my way up into the driver's seat every time, and my son also loved not having to tumble out every day!
In the aforementioned shorter bed, there are some nifty little features as well: such as a tailgate that not only has a step (again, fabulous for us shorter folk) but also features a built-in measuring tape across the tailgate interior (to use when it's down), and a host of sockets and auxiliary plugs that can be used for various power tools and equipment when needed, thanks to the onboard battery packs.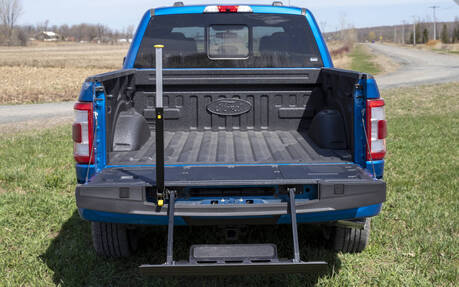 Powerfully Boosted in All the Right Ways
Of course, all the above features, amenities and drivability come at a price. The PowerBoost is by no means a cheap vehicle, with an MSRP starting just under the $60k mark. However, when you think about everything you get with said truck, it makes that price tag well worth it. And when compared to other vehicles in its class it still pulls ahead for power, performance and fuel efficiency.
All in all, the 2021 Ford F-150 PowerBoost is a helluva truck in more ways than one. There's a reason the F-150 has been the number one selling pickup in North America for over 50 years now, and with versions like the PowerBoost - and brand new F-150 Lightning - they are set to maintain that winning streak for the next 50 years to come.
Test drive report
Test model

2021 Ford F-150

Trim level
Lariat PowerBoost FX4
Price range
74 094 $
Price as tested
74 094 $
Warranty (basic)
N/A
Warranty (powertrain)
N/A
Fuel economy (city/highway/observed)
12,0 / 9,0 / 11,2 L/100km
Options
N/A
Competitive models
Chevrolet Silverado 1500, GMC Sierra 1500, Nissan Titan, Ram 1500, Toyota Tundra
Strong points

Decent fuel economy
Great interior amenities for work and play
Easy to drive, even in the city

Weak points

Low payload rating
Clunky transmission
Pricey

Editor's rating
Fuel economy
Great for a V6 with so much power, but could change drastically if towing often
Comfort
So much interior space and very comfortable seats with a typical truck feel on the road
Performance
Great power, poopy transmission!
Infotainment
Fabulous large screen with easy navigation and simple hookup for Apple CarPlay and Android Auto
Driving
Good throttle response and steering feel, if only slightly disconnected
Overall
Great bang for your buck with lots of functionality and interior amenities