Imperium Motors Makes Great First Impression in Canada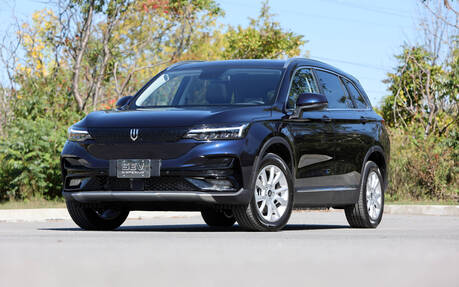 The onslaught of electric vehicles is only beginning, so don't be surprised to see new car companies arrive and try to show struggling legacy automakers how it's done.
Sweden's Polestar was the big name last year. Now, it might be Imperium Motor Company's turn. Starting in December 2021, the California-based EV specialist will bring to Canada a Chinese vehicle that's currently sold under the name Skyworth SEV but will be re-badged with the IMC logo.
Over the next few years IMC will launch a family of EVs from bicycles to commercial vans, the latter designed to rival the Ford E-Transit and GM-built BrightDrop EV600 with 300 kilometres of range when carrying a half-load.
IMC has high hopes for the SEV, a compact crossover similar to a Ford Escape or Honda CR-V. It may not have all-wheel drive, but range is estimated at around 400 kilometres with the 72-kWh battery, or 300 kilometres with the smaller 55-kWh pack.
The vehicle made its first Canadian appearance last week at the Montreal Electric Vehicle Show, and IMC received deposits on nearly 200 units for the three-day event.
The one thing we haven't mentioned yet is that the SEV is priced in the same ballpark as a conventionally powered competitor. The base model starts at $37,995, while the more upscale Premium model retails from $44,995. Don't forget to subtract $5,000 thanks to the federal government, plus $3,000-$8,000 in provincial incentives.  
No Beta Launch
Christian Dubois, President of IMC Canada, says he expects to sell 2,500 SEVs in 2022 starting with Quebec and British Columbia, where the company is headquartered.
There will be dealerships spanning most of Canada (and several U.S. states). More will be added on an ongoing basis. These locations will handle service and warranties.
IMC is confident in the quality of its product and serious in its approach. What's more, sales will involve a whole lot less paperwork and much shorter delays than what customers are used to when dealing with traditional automakers.  
More Refined Than You Think
Just how good is the SEV? We went straight to Dubois and asked for the opportunity to do a quick test drive, which he happily agreed to.
We ended up with a prototype that wasn't street-legal in Canada since it didn't have daytime running lights or proper side mirrors. Heck, the information of the centre display was in Mandarin. However, build quality compared to that of top automakers, the interior was clean and tastefully executed, while the materials were refined enough to silence critics.
The spacious and versatile SEV offers an ideal driving position and is generously equipped to meet the needs of North American drivers. We obviously couldn't make sense of the infotainment system due to the language, but the graphics and icons looked sharp and user-friendly. On a negative note, the steering column offers very little adjustment and the rear seat doesn't feature split-folding capability.
On the road, there's more than enough power to play with, and handling is decent. While the front suspension feels a tad firm at first, overall ride quality is outstanding. Steering lacks feedback and isn't as lively as the Chevrolet Bolt EV's.
According to the on-board computer, we had 426 kilometres of range with a battery charged to 88 percent. Impressive. However, there's no heat pump or battery temperature management system, so winter range will be significantly reduced—maybe 250-275 kilometres, who knows?
The first production units for public sales won't be ready until the end of the year (the vehicle is expected to be officially homologated in the next few days). In the meantime, IMC Canada will finalize and announce its initial dealer network. We'll keep you posted.