2023 Chevrolet Corvette Z06 Already Revealed in First Official Pic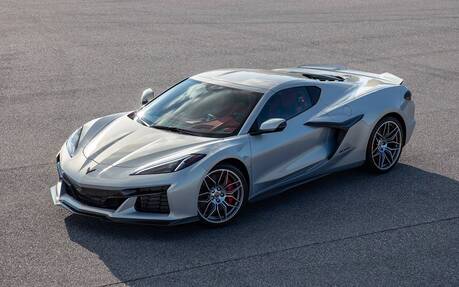 October 26 is when Chevrolet will unveil the new 2023 Corvette Z06 based on the eighth-generation coupe. Are you excited yet?
A few weeks ago, the company posted a short video that didn't reveal anything except the sound of the engine and exhaust system. Today, Chevy sent spy photographers packing by giving us the first official picture showing the entire car undisguised.
Who needs spy photos when you've got the real thing? Full reveal coming 10.26.21. The All-New 2023 #Corvette #Z06. pic.twitter.com/LElu8UdtcJ

— Chevrolet (@chevrolet) September 27, 2021
A few differences are readily noticeable. While the front lip spoiler looks identical, the openings above have been revised and enlarged, presumably to improve front brake cooling. They are capped by a new gloss black accent stretching nearly the full width of the car.
Of course, the wheels feature a unique design, but so do the side air intakes for the mid-mounted engine. Are they any bigger? It's hard to tell. However, compared to those on the Corvette Stingray, they have been reshaped and given more black trim for a sportier appearance.
Curiously, the Corvette Z06 shown here has a smaller rear spoiler than the Stingray Z51. Don't worry, though: Chevrolet will definitely offer a more aggressive and prominent wing as part of a performance package.
As mentioned in a previous article, all signs point to a 5.5-litre DOHC V8 with a flat-plane crankshaft derived from the Corvette C8.R race car. Hopefully the engine will crank out more power and torque than the outgoing Z06 (650 hp, 650 lb-ft). One thing's for sure, drivers will have their ears full and experience new thrills at higher revs.
Keep following The Car Guide for more on the 2023 Chevrolet Corvette Z06.