2022 Mercedes-Benz EQS is Priced Just Above Comparable S-Class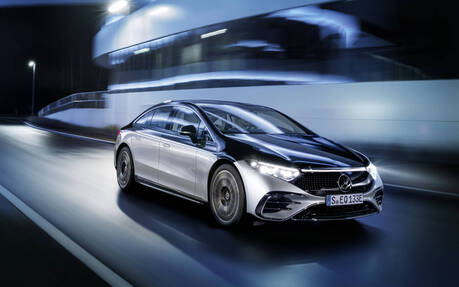 As the first-ever electric vehicle from Mercedes-Benz, the all-new 2022 EQS full-size sedan will arrive in Canadian dealerships later this year and we now know how much it will cost.
Available in a single trim level (580 4MATIC) starting at $144,200, the Mercedes-Benz EQS requires a premium of just $1,300 over a similarly equipped, gas-only 2022 S-Class. It generates about the same output, namely 516 horsepower, and promises to offer more than 600 kilometres of range (the exact number will be posted by Natural Resources Canada in the coming weeks).
On the other hand, the EQS' base price puts it was above the Tesla Model S (starting at $113,610, 623-652 km of range) and Porsche Taycan (starting at $119,900, 320-365 km of range), which will be its two biggest rivals.
Of course, the Mercedes-Benz EQS has a few tricks up its sleeves. Chief among them is the so-called "Hyperscreen," a wall-to-wall digital interface that consists of three displays behind a 56-inch curved glass panel. It comes alive with the latest generation of the MBUX infotainment system.
The full suite of active and passive safety and driver assistance technologies can be found in the EQS as standard. The car will automatically maintain its speed and a preset distance with other vehicles, stay in its lane on multi-lane highways and slow down based on traffic conditions. This is complemented by aerodynamic wheels ranging from 20-22 inches, a panoramic roof, Burmester premium surround sound system, wireless smartphone integration and charging, as well as an Acoustic Comfort package designed to make the cabin super-quiet.
Some notable options include front seats with massage, head-up display, AIR BALANCE fragrance atomizer and active rear-wheel steering which makes this large sedan almost as manoeuvrable as a compact car around town. Four packages ranging from $4,500-$7,000 are available.
Last thing we must point out: via the newly announced Mercedes me Charge platform, drivers of the Mercedes-Benz EQS (three-year plan) will have access to over 4,900 public chargers across Canada, making up more than half of the country's networked public charging ports. 
This is all possible through a strategic partnership with ChargePoint, FLO and other charging providers in Canada. The Mercedes me Charge ecosystem can also provide drivers access to an additional network of more than 2,400 semi-public ports on the ChargePoint network that reside in access-controlled environments like workplaces, shopping malls and hotels.
Watch: A Look Inside the Mercedes-Benz EQS