Genesis GV60 Electric SUV Detailed Further With Impressive Specs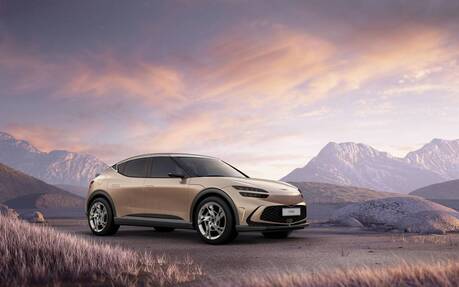 The Car Guide was invited this week to the first official presentation of the Genesis GV60, the young Korean brand's first fully electric vehicle. Company executives provided a lot more details this time around, with an emphasis on technology and performance.
Naturally, the Genesis GV60 is built on the new E-GMP platform shared with the Hyundai IONIQ 5 and Kia EV6, two other dedicated EVs that Canadians will be able to purchase in 2022.
The GV60 gets its own styling, of course, with softer, more rounded shapes while integrating many Genesis design cues such as the signature Two-Line Quad Lamps.
Inside, a huge screen spans half the width of the vehicle and replaces the traditional gauges in the process. Also notable is the Crystal Sphere, a ball-shaped Shift-By-Wire that intuitively informs drivers when the GV60 is ready to drive (and serves as mood lighting when the vehicle is turned off). It's a nice gadget, for sure, but what happens when it fails and you have to repair it?
Just One Battery
While the IONIQ 5 and EV6 offer a choice of two batteries, the Genesis GV60 will come exclusively with the larger one, which has a capacity of 77.4 kWh. Range is estimated at up to 451 kilometres, though the exact number for Canada has yet to be announced. For the record, the IONIQ 5 equipped with the same battery is able to travel 480 kilometres.
In its home market of South Korea, the Genesis GV60 will be available in both single- and dual-motor configurations. Again, we don't know if that will be the case here. Genesis Canada may very well decide to go with the dual-motor AWD variant only.
As for charging, the GV60 will be compatible with DC fast chargers up to 350 kilowatts, making it possible to charge the battery from 10-80 percent in just 18 minutes. Similar to the IONIQ 5, Vehicle To Load (V2L) technology will enable owners to charge power devices on the go using the GV60's battery.
Boost and Drift Modes
Genesis told us the GV60 won't just be its first EV but also its quickest. A Performance model with 320 kilowatts (429 horsepower) and 446 pound-feet of torque is planned. But get this: It will have a Boost mode that temporarily increases output to 360 kilowatts (482 horsepower) and torque to 516 pound-feet, allowing 0-100 km/h sprints in just four seconds.
Sporty driving enthusiasts will be thrilled because Genesis has another cool trick up its sleeve: a Drift mode. Yes, this will be an EV you can drive sideways and have real fun with. Drift mode will deactivate stability control while sending more torque to the rear wheels.
Facial Recognition
As mentioned up top, the Genesis GV60 also emphasizes technology. One of the futuristic features to be part of the package is a facial recognition camera on the outside that identifies the driver and automatically unlocks the doors—no keyfob or smartphone needed.
Inside, there will be a fingerprint scanner to start the vehicle instead of having to push a button or use a mobile app.
Furthermore, cameras will replace the conventional side mirrors in order to eliminate blind spots, with the image displayed on two small screens located in the front corners of the cabin. This is a Korean feature, mind you, and chances are it won't be legal in Canada, at least initially.
The Genesis GV60 will launch in South Korea this fall and in North America sometime next year, likely as a 2023 model. Information specific to the Canadian market will be announced in the coming months. We'll keep you posted.