2021 Chevrolet Corvette Stingray Convertible: American Exotic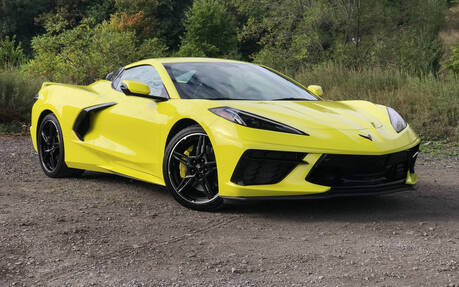 Zora Arkus-Duntov, the brilliant engineer who became known as the true father of the Corvette, must be smiling from heaven right now. After more than 60 years, his spiritual successors have finally made his dream of a mid-engined Corvette a reality. And they did a good job, too.
The eighth-generation (C8) Chevrolet Corvette was named the 2020 North American Car of the Year and has racked up many other awards ever since. Sales are through the roof, and the Bowling Green, Kentucky assembly plant can't meet demand.
The car is powered by a naturally aspirated 6.2-litre V8 engine that produces 495 hp and 470 lb-ft of torque when equipped with the performance exhaust. Subtract 5 hp and 5 lb-ft when it's not. The lone transmission choice is an eight-speed dual-clutch unit. Yep, no more stick shift.
Also gone is the transverse leaf spring setup. It's been replaced by an all-new aluminum double-wishbone suspension with coilover springs. Meanwhile, the brakes consist of 321-mm discs up front and 339-mm discs in the rear (or 345 mm and 350 mm, respectively, with the Z51 package).
Coupe vs. Convertible
All of these components and more are shared between the coupe and the convertible. The latter, sadly, doesn't have that big glass panel exposing the mid-mounted engine and its red-painted cylinder heads. The retractable hardtop opens or closes in about 15 seconds at speeds up to 50 km/h.
The new Corvette Stingrays may not look like it, but they're actually 13.7 cm longer, 5.6 cm wider and 31 kg heavier than their predecessors. They're still pretty lightweight for mid-engined sports cars.  
That being said, the convertible adds 46 kg to the coupe's 1,527 kg due to the retractable hardtop system. Consequently, it proves a tad slower, sprinting from 0-100 km/h in 3.70 seconds and running the quarter-mile in 11.85 seconds at 192.4 km/h. The coupe's times are 3.51 seconds and 11.60 seconds (at 197.9 km/h), respectively.
The 6.2-litre V8 produces a visceral sound at full throttle, especially in Sport or Track mode which enables launch control revving the engine up to 3,500 rpm before the action begins.
When it comes to braking, the coupe will stop from 100-0 km/h over a distance of 34.08 metres versus 35.11 metres for the convertible. For our tests, both cars were equipped with the Michelin Pilot Sport S tires included in the Z51 package, a $6,995 option that also adds Brembo brakes with larger discs, performance suspension and exhaust, performance rear axle ratio with electronic limited-slip differential, heavy-duty cooling system, front splitter and functional rear wing.
Same Cockpit, Slightly Different Experience
The interior of the 2021 Chevrolet Corvette Convertible is identical to the coupe's. Visibility is exceptional thanks to the new location of the V8 engine which allowed designers to move the cockpit 41.9 cm forward and give the car the kind of short, wedge-shaped nose that makes you see the road right at your feet. It gets more complicated on each side, while rearward visibility is atrocious.
A super-tall centre console with a rising column of HVAC controls on the right side separates the driver from the front passenger. Small- and medium-sized people will feel rather squeezed behind the wheel and bang their elbows more often than not. Larger drivers will simply endure torture.  
The squared-off steering wheel is wrapped in microfibre suede, while the rest of the cabin is finished in leather with contrast stitching. In top-line 3LT trim (as tested), finer materials are in order. Powered by GM's latest-generation infotainment system, which is quite user-friendly, the centre touchscreen and reconfigurable instrument cluster have beautifully crisp graphics and are complemented by a superb head-up display.
It's when you hit the road that you start to notice some differences between the coupe and the convertible. With the latter, you can hear plenty of creaking noises coming from the retractable hardtop when driving over even the slightest road imperfections. The poor baby you see on the pictures had already endured more than 15,000 kilometres of abuse from enthusiastic auto journalists when our turn came to take it for a week of testing.
The ride felt a bit less stable than the coupe's in Comfort mode, which is why we preferred to tighten things up with Sport mode. The excellent MagneRide shocks (optional) deliver a firm but controlled ride that's not excessively loud. Just beware of larger bumps and cracks in the road, otherwise you might have to see a doctor afterwards for back problems.
By the way, the available front lift system ($2,495) is definitely worth the investment. It can raise the nose of the car by 4 cm in less than three seconds. Even better, the system can memorize up to 1,000 specific locations where you won't have to think about turning it on.
Bottom Line
The 2021 Chevrolet Corvette Stingray Convertible is an American exotic car that retains the high-value proposition of its front-engined predecessors. Should the upcoming 2023 Corvette Z06 come with a drop-top, it will become even more desirable and fearsome.
Test drive report
Test model

2021 Chevrolet Corvette

Trim level
3LT Décapotable
Price range
$69,398 – $93,898
Price as tested
CA$113,463
Warranty (basic)
3 years/60,000 km
Warranty (powertrain)
5 years/100,000 km
Fuel economy (city/highway/observed)
15.4 / 8.7 / N/A L/100km
Options
N/A
Competitive models
2021 Porsche 911, 2021 Nissan GT-R
Strong points

Impressive ride and handling
Exhilarating V8 power and sound
Beautiful interior
Controls and displays are nicely executed

Weak points

Tight interior
Limited storage and trunk space
Creaking noises from the retractable hardtop
Poor rearward visibility

Editor's rating
Fuel economy
Reasonably efficient if you can be reasonable with the throttle.
Comfort
The ride is firm but controlled. Taller drivers will feel excessively squeezed.
Performance
The big naturally aspirated V8 in a mid-mounted layout combined with the new dual-clutch transmission deliver exhilarating performance.
Infotainment
The displays are crisp and the system proves user-friendly.
Driving
Exceptional ride and handling made even sweeter with a fabulous soundtrack.
Overall
The iconic Corvette is beautifully transformed and ridiculously cheap when compared to similar supercars.