2022 Nissan Frontier: My, How Times Have Changed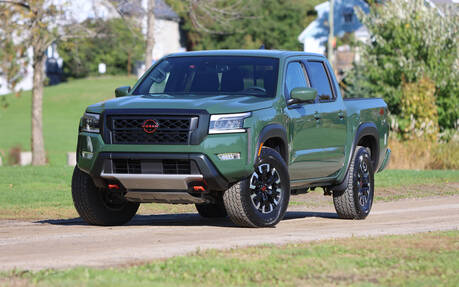 True story: I attended the media presentation of the previous-generation Nissan Frontier just a few days before my daughter was born. I even used that truck to get to the hospital and later return home.
My baby girl is now 17 years old, and ironically the Frontier didn't change at all during that time. Can you imagine that?
While it's true that kids grow up extremely fast, Nissan took an eternity redesigning the Frontier. Granted, midsize pickups slipped in popularity in the early 2010s, leading Ram, Ford and Mazda to drop out of the segment. GM did the same, too, although it came back mid-decade with next-generation Chevrolet Colorado and GMC Canyon models.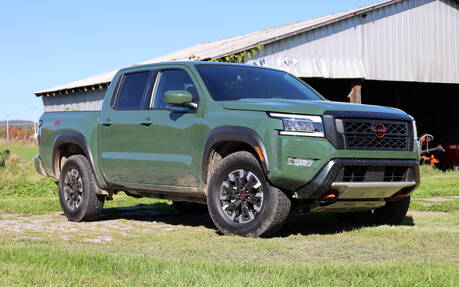 This sparked a rebirth of midsize pickups. The Toyota Tacoma was partially redesigned for 2015, the Honda Ridgeline got a full makeover two years later, and the Ford Ranger would follow soon after that.
Sales of the Nissan Frontier began to rise again in 2015 and remained steady up until 2020, although they couldn't match the competition. It was an easy product to sell for Nissan and a highly profitable one, as well, since development costs had long been covered.
Back After a Short Hiatus
In Canada, the Frontier officially stopped to exist for the 2020 and 2021 model years. In reality, leftover 2019 models continued to be sold through three quarters of last year. Now, pickups are all the rage and rival manufacturers can't meet demand. Did Nissan miss out on big sales opportunities? Most definitely, but no one could have predicted what has unfolded since the start of the pandemic.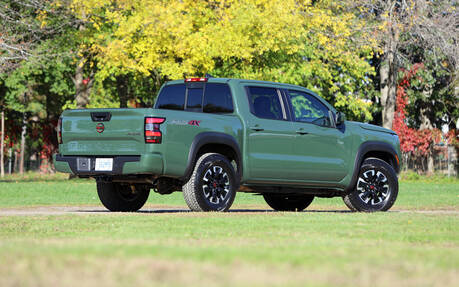 So, here comes the all-new and much improved 2022 Nissan Frontier, a truck that means business and is tailor-made for North American customers (you won't find it anywhere else on the globe). While the chassis is carried over, the level of sophistication and refinement has increased massively.
The Canadian lineup consists exclusively of V6-powered 4x4 models. The base four-cylinder configuration is gone along with the low-selling 4x2 models (7-9 percent of total sales in the country). There are five trim levels to choose from—seven fewer than in the U.S. You have the Frontier King Cab S, SV and PRO-4X a with a six-foot bed, Frontier Crew Cab SV with a six-foot bed and Frontier Crew Cab PRO-4X with a five-foot bed. The King Cab PRO-4X model is unique to Canada.
A simplified portfolio means Nissan prefers to go after mainstream buyers than catering to each and every single customer. It can please about 80 percent of previous Frontier owners while potentially attracting undecided folks that would otherwise consider another brand.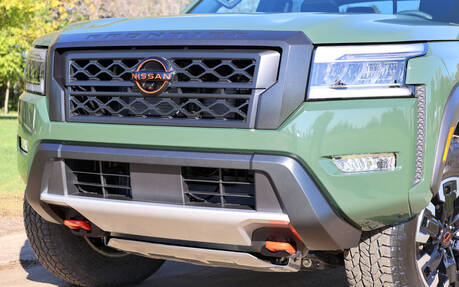 Beefy Truck
From Hardbody to Frontier, Nissan's midsize pickup has never been the most muscular around, but that changes for 2022. The new model is downright beefy and rugged in a way that would make even its top rival, the Tacoma, jealous. Of course, there's no direct alternative to the Tacoma TRD Pro, a real off-road ready machine, but the Frontier PRO-4X is a solid counterpunch to TRD models, with increased ground clearance, sturdy skid plates, Bilstein off-road shocks, locking rear differential and aggressive tires.
I must say the new generation of the Frontier is light-years ahead of its predecessor in terms of ride and handling. It's tremendously more stable, smoother and quieter, with virtually no rear-wheel hop. Credit goes to completely revised suspension and steering systems designed to make daily driving more pleasant.
Under the hood is a new 3.8-litre V6 that Nissan introduced with the final year of the previous generation south of the border. This 310-horsepower mill is paired with a nine-speed automatic transmission and impresses with 281 pound-feet of torque, a huge chunk of which is accessible as soon as you start depressing the throttle. It's unquestionably the finest engine in the segment, much more enjoyable than Toyota's own V6.
As for efficiency, Nissan claims the 2022 Frontier needs 12 percent less fuel. Sounds good? Not really. The old 4.0-litre V6 and five-speed autobox made owners spend a fortune at the pump. This time, expect to achieve a combined 12 L/100 km.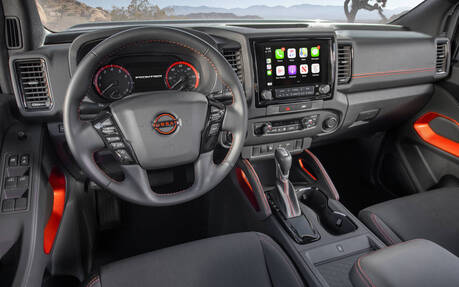 The Most Comfortable
Nissan may not be great at everything, but it sure knows how to design comfortable seats. The Frontier is no exception and now offers the best perches in the segment, with adequate support for the legs and an excellent driving position overall. By comparison, the seat cushions in the Tacoma are too low and short, while headroom is quite limited.
I can't say I'm particularly impressed with fit and finish, but the Frontier is no worse than the average competitor in that department. Ergonomics are flawless and storage is plentiful with an extremely well designed centre console. There's now a proper centre armrest, too. On the flip side, you won't find a telescopic steering wheel in any models, something that might put off many potential customers.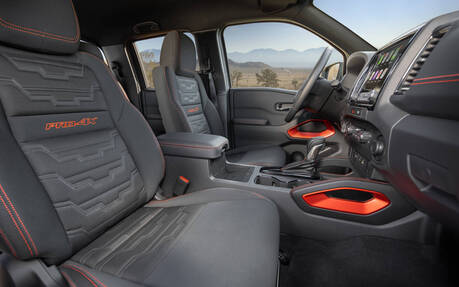 The rear seats flip up just like they do in most other pickups to maximize cargo space. In PRO-4X trim, there's even a storage bin in there. The subwoofer included with the available premium sound system eats a significant portion, however.
You Don't Have to Wait
The 2022 Nissan Frontier is bound to enjoy a lot of success right from launch. Not only is it quieter, smoother and more capable than in the past, but it also has an edge over the competition and availability is not a problem. The company has made sure Canadians can get their hands on a unit quickly while other pickups have little stock left and long delivery times. GM and Toyota will likely lose sales to Nissan just because of that.
Watch: 2022 Nissan Frontier is All-new and Improved 
Test drive report
Test model

2022 Nissan Frontier

Trim level
4x4 Crew Cab PRO-4X
Price range
$39,998 – $47,498
Price as tested
49 798 $
Warranty (basic)
3 years/60,000 km
Warranty (powertrain)
5 years/100,000 km
Fuel economy (city/highway/observed)
13,7 / 10,6 / 12,0 L/100km
Options
Luxury Package: $2,000, Premium paint: $300
Competitive models
2022 Chevrolet Colorado, 2022 Ford Ranger, 2022 GMC Canyon, 2022 Honda Ridgeline, 2022 Toyota Tacoma, 2021 Jeep Gladiator
Strong points

Above-average comfort
Good ride and handling
Low-end torque from V6
Great looks

Weak points

No more four-cylinder base model
Below-average towing capacity
No telescopic steering wheel

Editor's rating
Fuel economy
More efficient than in the past, but still a lot of room for improvement.
Comfort
One of the highlights of this truck, especially when compared with the Toyota Tacoma.
Performance
Best-in-class power is great, but it's the torque that impresses.
Infotainment
An excellent system particularly in PRO-4X trim with the 9-inch display.
Driving
A better daily driver with increased agility. Feels tough, too.
Overall
One of the most convincing products Nissan has to offer, the new Frontier has an edge over the competition.