Hyundai Maintains Wild Idea of Putting Displays on Steering Wheels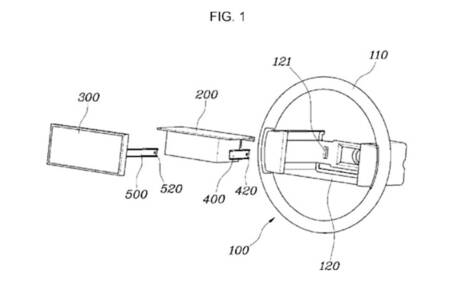 Hyundai, just like many automakers, is working to improve the driving experience inside its vehicles by integrating the latest technologies and creating more of a digital space. However, one of its ideas is raising more questions than answers.
According to a patent filed in Germany and discovered by CarBuzz, the Korean manufacturer is actually thinking about putting a screen directly on the steering wheel.
The diagrams in the filing are rather plain and simple. We can see that the display would not be mounted above the steering wheel hub. Instead, it would go right over it and cover much of the wheel's diameter.
This, Hyundai claims, addresses the issue of some drivers not being able to see the instruments because they are partially obstructed by the steering wheel.
While a thoughtful idea, it's certainly not the best solution to fix the problem. Inevitably, drivers will have to take their eyes off the road a little longer. Also, with the steering wheel turned 90 degrees or more, will the display turn at the same time or will the information stay upright? Either way, that's another distraction.
And where would the airbag fit? Hyundai is not very clear. It appears the airbag would still be contained in the steering wheel and spaced far enough on separate mounts to avoid damaging the screen in the event of a crash. No word on the driver's safety, though.
If you recall, Hyundai showed a similar idea back in 2019 with the Mint concept from its Genesis luxury brand (see photo gallery), which had a large display on the steering wheel. Around the same time, the company presented a study on car cockpits of the future including touch displays with haptic feedback on the steering wheel (pictured below).
Is any of this serious? Time will tell. According to J.D. Power's 2021 Tech Experience Index Study, Hyundai is a leader when it comes to in-car technology, so don't bet against it.