2022 Volvo XC40 Recharge Gets Price Cut, Extra Range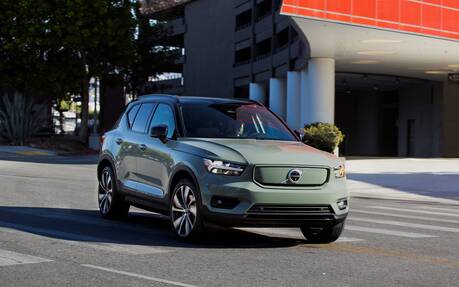 Volvo's all-electric SUV, the compact XC40 Recharge, returns for its sophomore year with a pair of good news for Canadian customers.
First, the company has lowered the base price. While the 2021 model started at $64,950 (plus destination and delivery), the 2022 model retails from $59,950. That's a drop of $5,000.
If you live in Quebec, you're even more in luck because the XC40 Recharge now qualifies for the provincial EV rebate of $8,000 since its base MSRP is under $60,000.
The range-obsessed will also be pleased with the 2022 Volvo XC40 Recharge. While the 78-kWh battery pack is unchanged, range is now estimated at 359 kilometres instead of 335 kilometres. Of course, there are several electric SUVs out there that can cover 400 kilometres or more on a full charge, such as the Ford Mustang Mach-E, Tesla Model Y and Volkswagen ID.4, but it's still a notable improvement. Volvo says it's the result of software updates to the energy management and thermal management systems.
Similar updates will soon be available for existing 2021 model customers, as well.
Blessed with 402 horsepower and 486 pound-feet of torque, the Volvo XC40 Recharge can achieve 0-100 km/h acceleration in just 4.9 seconds. That's much quicker than any gasoline-powered XC40. On the other hand, maximum towing capacity is cut in half, from 1,800 to 900 kilograms (4,000 to 2,000 pounds).