2022 Volvo
C40 Recharge

: Volvo's Coupe-like EV Impresses in First Test Drive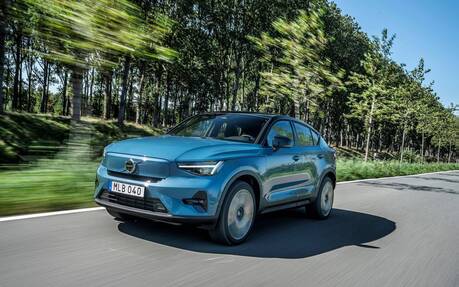 The all-new 2022 Volvo C40 Recharge is the Swedish automaker's first dedicated EV that doesn't share a platform with a conventionally powered model, unlike the XC40 which is available in both gasoline and electric variants. It's another step towards Volvo's goal of 50 percent EV sales by 2025 and 100 percent by 2030.
Built in Ghent, Belgium, the C40 Recharge is built on the same Compact Modular Architecture (CMA) as the XC40 Recharge and Polestar 2. The powertrain is the same, as well. However, the C40 Recharge stands out with a sporty, coupe-like profile.
Naturally, the front grille is replaced by a solid, body-coloured panel that improves aerodynamics, but there are many design elements shared with other Volvo products, most notably the T-shaped LED headlights that the company likes to compare to Thor's hammer. Clearly, styling was a priority here, and the result is a vehicle that looks particularly attractive.
Scandinavian Lounge
Swedish winters are long and dark, which is why designers gave the Volvo C40 Recharge a spacious interior flooded with light thanks to a fixed panoramic roof. The layout is similar to other models in the lineup, but you have unique touches including leather-free surfaces. The seats are actually wrapped in a material called Nordico which consists of textiles produced from recycled PET bottles, recycled cork and "bio-attributed material" sourced from forests in Sweden and Finland.
For Volvo, the future is all about sustainability. Another distinctive feature inside the C40 Recharge are the backlit accents on the dashboard and door panels, with graphics inspired by the Abisko national park in Sweden.
Hope You Like Google
The 2022 Volvo C40 Recharge introduces a new Android-powered infotainment system developed with Google. Navigation is handled by Google Maps, and when you enter a destination the system will factor in real-time traffic conditions along with elevation changes to give you a more accurate estimation of the range you have left.
Sadly for Apple fans, CarPlay is not available for now. The company plans to fix that at some point via an OTA update. A Harman/Kardon sound system and wireless smartphone charging come standard, by the way. As for capability, the C40 Recharge has a small 489-litre trunk but it can tow up to 1,800 kilograms (4,000 pounds).
Battle of the Clones
From a technical standpoint, the Volvo C40 Recharge is a clone of the XC40 Recharge and Polestar 2. As mentioned earlier, the platform is the same and so are many of the components. The drive therefore feels very similar. Acceleration is strong and linear at any speed as the torque-rich motors immediately respond to throttle input. For the record, 0-100 km/h sprints are achieved in 4.7 seconds on the strength of 402 horses and 468 pound-feet of torque.
The 78-kWh battery has a usable capacity of 75 kWh and delivers a range of about 360 kilometres according to the U.S. Environmental Protection Agency (EPA). The rating from Natural Resources Canada was not yet available at the time of writing. That means the C40 Recharge will travel shorter distances on a full charge than most direct competitors including the Audi Q4 e-tron, Volkswagen ID.4 and Tesla Model Y. You can replenish the battery in approximately eight hours using a level 2 (240V) charger, or 68 minutes via a 50-kW DC fast charger. During our test drive which included long stretches at highway speeds, the C40 Recharge averaged 21.7 kWh/100 km.
One-pedal driving is the default mode, but you can change that by accessing the appropriate menu on the screen. In typical Volvo fashion, steering is light with not much feedback. It's possible to add some firmness to it, but the C40 Recharge is not really geared up for dynamic driving. On the highway, wind noise and road noise are a bit too loud, while the small rear window only allows you to see the vehicle that's right behind you. While it does a great job on uneven surfaces such as cobblestones, the suspension is not so well suited to high-speed action.
Expensive EV
Unlike the XC40 Recharge, which nows starts at $59,950 for 2022, the C40 Recharge is pretty expensive. The lone model available in Canada, called Ultimate, is priced from $72,600. As you can imagine, it doesn't qualify for any of the federal or provincial EV incentives.
For this reason, both the XC40 Recharge and Polestar 2 are smarter purchases. It's something to think about, unless you really dig the C40's looks.
Test drive report
Test model

2022 Volvo C40 Recharge

Trim level
C40 Recharge
Price range
CA$72,600
Price as tested
CA$72,600
Warranty (basic)
4 years/80,000 km
Warranty (powertrain)
4 years/80,000 km
Fuel economy (city/highway/observed)
N/A
Options
N/A
Competitive models
2021 Tesla Model Y, 2021 Ford Mustang Mach-E, 2022 Volvo XC40 Recharge Electric AWD, 2022 Audi Q4 e-tron, 2022 Audi e-tron, 2022 BMW iX
Strong points

Attractive looks
Powerful, torque-rich motors
Great Android-powered infotainment system
Smooth ride over uneven surfaces

Weak points

Shorter range than direct rivals
No EV rebates apply
Rear visibility is a problem
Over-assisted steering

Editor's rating
Fuel economy
Our tester averaged 21.7 kWh/100 km.
Comfort
The ride is super-smooth over uneven surfaces. Wind noise can be heard at highway speeds.
Performance
Power is generous with a very linear torque curve.
Infotainment
The Android-based system is quite sharp and user-friendly. Sorry, Apple fans, CarPlay is not available for now.
Driving
The C40 is more about comfort than agile handling.
Overall
This is an excellent EV across the line. No government rebates apply, though.