Used Plug-In Hybrids: What Are Your Options?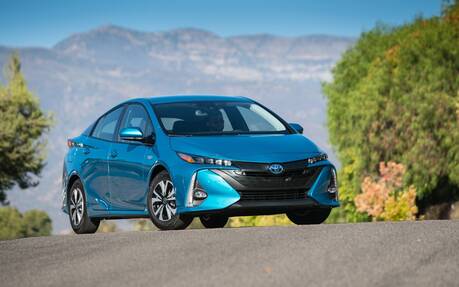 In partnership with Otogo.ca
For a large number of consumers who aren't yet ready to switch to fully electric vehicles, plug-in hybrids are an excellent alternative.
The vast majority of day-to-day commutes can easily be done using only battery… assuming, naturally, that you adopt the habit of plugging in your vehicle when you're not using it. On greater distances, though, the combustion engine provides great support and everything works just like a traditional hybrid would.
Plug-in hybrids have been around for a few years already, so there are a large number of options available on the used car market. Keep in mind that battery capacity degrades over its lifespan, though. If you're interested, here are a few affordable options that you might consider…
Toyota Prius Prime
This popular version of the Prius has a bigger battery (hence a smaller trunk) and can go close to 40 km on a full electric mode. Its power output is 121 horsepower, it can go about 1,000 km with a full tank of gas and an average of about 4.5 L of gas is consumed every 100 km (4.5 L/100 km). If the design of the Prius Prime isn't too much of an issue for you, you could get your hands on a fun and reliable compact hybrid.
Chevrolet Volt
Even though the Chevy Volt had great commercial success with its two generations, it was canned two years ago when GM decided to focus on fully electric vehicles instead. The first generation (2011-2015) offered an electric range of close to 60 kilometres, whereas the second generation (2016-2019) saw its electric range bumped to 85 kilometres. Note here that only the electric engine moves the vehicle and that the gasoline engine acts purely as a generator to recharge the battery. It isn't a particularly expensive automobile to maintain and its average fuel consumption is about 5.5 L/100 km.
Ford Fusion Energi
Roomier than its counterparts, the Fusion Energi is a midsize sedan that offers a superior comfort and a great feeling behind the wheel. Its average fuel consumption is about 5 L/100 km once the 35 km of electric range runs out. Beware of corrosion, though: a yearly rustproof treatment, paint protection and a regular wash are all recommended to prevent any nasty surprises.
Honda Clarity
Here's one that fails to impress in terms of exterior style. But the Honda Clarity has a unique set of skills. It is capable of driving 77 kilometres on EV mode, and once the battery is drained, the gas engine kicks in and will consume an average of about 5.5 L/100 km. It is somewhat powerful thanks to its 212 horsepower, but the Clarity is also a pleasure to drive. Expect higher maintenance costs than with other Hondas, however.
Shop a vast inventory of used hybrids for sale on Otogo.ca!