2022 Polestar 2 Single Motor: Making FWD an Attractive Proposition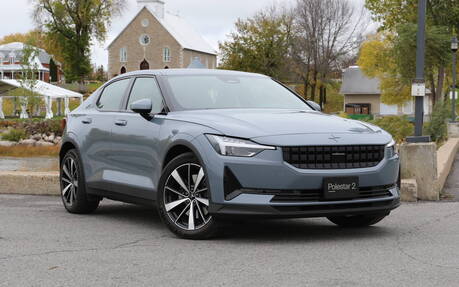 While just one year old, the Polestar 2 is already getting an update and a price drop with the addition of an entry-level model that features a single motor instead of two.  
Retailing from $49,900, the 2022 Polestar 2 qualifies for provincial incentives of $8,000 in Quebec and $3,000 in British Columbia. The federal rebate of $5,000 is still not available, though.
Other changes include a new mechanical heat pump (optional) and a slight increase in range. The 78-kWh battery now enables the dual-motor AWD variant to cover 400 kilometres instead of 375, while the single-motor FWD variant can travel up to 435 kilometres, Polestar says. And with Wi-Fi capability, the company believes it can further improve energy management and potentially the range with over-the-air updates, similar to Tesla.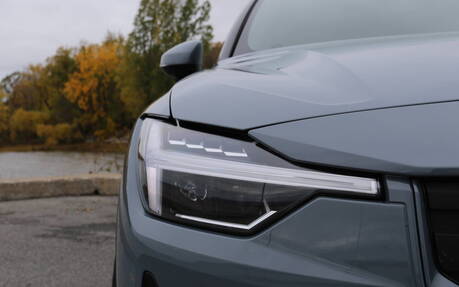 Interestingly, said battery is wrapped in a protective pouch with high-tensile steel reinforcements at both ends to limit fire risks and ensure everyone's safety in the event of an accident.
The 2022 Polestar 2 Single Motor for this test drive was equipped with the Plus Pack ($5,500), which includes the mechanical heat pump, full-length panoramic glass roof, Harman Kardon audio system, WeaveTech vegan upholstery and high-level interior illumination.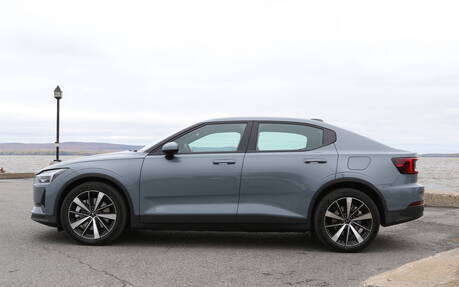 Vegan Cabin and Recycled Materials
The interior looks very much like Volvo products and is available with four vegan options in addition to the traditional leather. There are many recycled materials, as well. The general atmosphere is quite nice, though we suspect the light grey fabric on the seats will easily get stained over time.
The digital instrument panel gives you all the essential vehicle data but nothing more. It's not like other electric vehicles that put a ton of information right under your nose. Meanwhile, the Google-backed infotainment system proves more intuitive to use with your fingers than that of the Volvo XC40 Recharge. It also responds quickly and naturally to voice commands.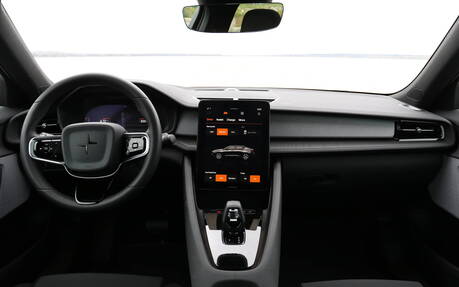 While the seat cushions are relatively high, the truth is there's adequate room for front occupants. Those sitting in the rear need to be shorter than 5'8'' so they can enjoy at least a sliver of headroom. We found the bench to be on the firm side when compared to the front buckets. As for cargo space behind, the 405-litre trunk can expand by dropping the rear seatbacks. The opening is a bit high, for sure, but there is extra storage available under the floor.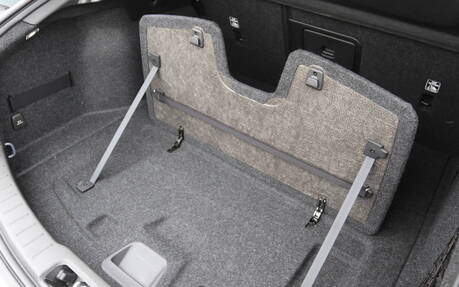 How's the Drive?
After just a few minutes on the road, it becomes clear that the Polestar 2 is primarily focused on comfort as the suspension delivers a smooth ride on all but the worst stretches of pavement. With soft yet supportive seats on top of that, long trips are quite relaxing. We drove for more than two hours straight without experiencing too much fatigue or discomfort. Our only complaint is excessive wind noise at highway speeds, emphasized by the silent operation of the electric drivetrain.
With one less motor, the base Polestar 2 isn't as strong or explosive as the 408-horsepower, dual-motor variant. Output is down to 231 horsepower, and you can feel the difference when taking a good jab at the throttle. That being said, there's enough juice left for pleasant daily driving. Acceleration and passing manoeuvres are properly quick, meaning you won't have trouble merging onto highways.
For the record, all Polestar 2 models can be equipped with a trailer hitch for towing up to 900 kilograms (2,000 pounds). This is worth considering as it's not something you usually see with electric vehicles.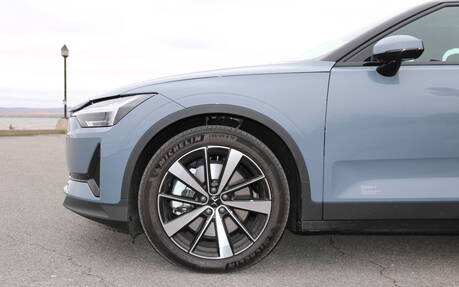 What happens when the road gets twisty? Well, given the compliant suspension, there's a noticeable amount of body roll when changing directions at a fairly good clip. Steering is precise enough, though not razor-sharp. You can dial more firmness into it via the centre screen, but the difference is negligible. The brakes, for their part, do a good job during emergency stops. However, they probably could use a tad more bite.
Now, you're surely wondering about real-world range. Polestar's estimation, as mentioned earlier, is 435 kilometres, but we don't have the official rating from Natural Resources Canada yet. At the beginning of our test drive, the computer said we had 390 kilometres of range with 91 percent battery capacity. If it were not for the time we spent attacking corners on a winding road across the countryside, we likely would have gotten more than 400 kilometres out of the car. The temperature on that day was 15 degrees Celsius, incidentally, so the cold didn't have any effect on performance.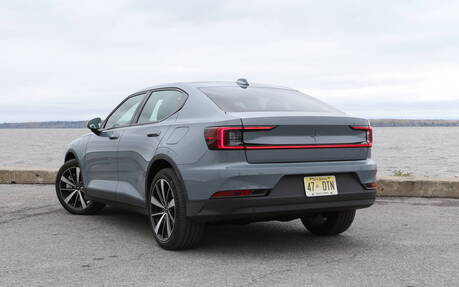 We didn't have time for charging, but you should know that Polestar claims a full charge in eight hours using a 240V station, and 10-80 percent charge in 30 minutes when plugged into a 155-kW DC fast charger. Those are hard to find, mind you. Most fast chargers currently deployed in Canada are either 50- or 100-kW units.
Final Word
Ultimately, the new 2022 Polestar 2 Single Motor with front-wheel drive is an EV worth considering, if only because of its competitive price. How will it perform during winter? We don't know yet, but the fact that it's a FWD car instead of a RWD car should put less stress on drivers when snow gets in the way.
Test drive report
Test model

2022 Polestar 2

Trim level
Long Range Single Motor
Price range
$51,900 – $69,900
Price as tested
CA$54,900
Warranty (basic)
4 years/80,000 km
Warranty (powertrain)
4 years/80,000 km
Fuel economy (city/highway/observed)
N/A
Options
N/A
Competitive models
2022 BMW i4, 2022 Volvo XC40 Recharge Electric AWD, 2021 Tesla Model 3
Strong points

Commendable performance
Smooth ride
Intuitive, Google-backed infotainment system
Select EV rebates apply

Weak points

Limited visibility in the rear
Excessive wind noise at highway speeds

Editor's rating
Fuel economy
Our long-range, single-motor tester showed that the range claimed by Polestar is achievable.
Comfort
The nicely calibrated suspension helps deliver a comfortable ride even on damaged roads.
Performance
Acceleration and passing manoeuvres are quick enough for pleasant daily driving.
Infotainment
The Google-backed infotainment system proves responsive and intuitive.
Driving
The single-motor Polestar 2 with FWD is smooth yet dynamic enough. A good fit for Canadian roads.
Overall
Performance is decent, the drive is pleasant and the price is lower than that of the AWD variant. Definitely an EV worth considering.