First Canadian Porsche Centre to Open in Pickering, Ont.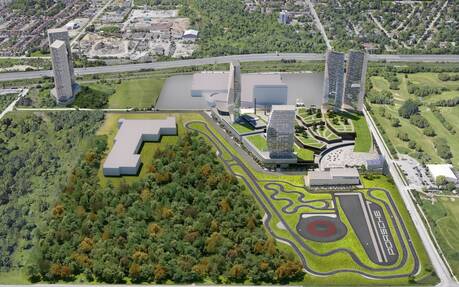 After Leipzig, Silverstone, Atlanta, Le Mans, Los Angeles, Shanghai, Hockenheim, Franciacorta and Tokyo it is now time for Toronto to get its very own Porsche Experience Centre. As the tenth centre of its kind in the world and third in North America, the first Canadian Porsche Experience Centre will be located on a 20-acre site in Pickering, Ontario alongside a casino, but also a projected concert venue, 400,000+ square feet of retail space, and a luxury hotel that are on the drawing boards of the "Durham Live" development.
"Porsche is more than just a car. Porsche is a promise for a unique brand and product experience and since the first opening in Silverstone in 2008, our Porsche Experience Centres are the best way to get this promise," says Detlev von Platen, Member of the Executive Board for Sales and Marketing at Porsche AG.
"Nowhere else in the automotive industry, the soul of our sports cars can be lived that way. I couldn't be happier that we can now announce the 10th location of its kind in Toronto – the fastest-growing city in North America with an ever-greater community of Porsche fans."
The centre will include a 2-kilometre driving circuit where visitors will be able to test Porsche cars on-site and, according to the release "in their ideal playground." A historic exhibition of classic Porsches, a café, a shop and also a parking lot with plenty of fast chargers will also be part of the centre.
Porsche claims that PEC Toronto will be the first "urban" version of the concept, enabling the centre to attract a wider variety of visitors, and showcase vehicle dynamics, technology through various driving modules that will be available all year long.
The Porsche Experience Center Toronto will be open to the public by 2024.