2023 Subaru Solterra Debuts as Subaru's First All-electric Vehicle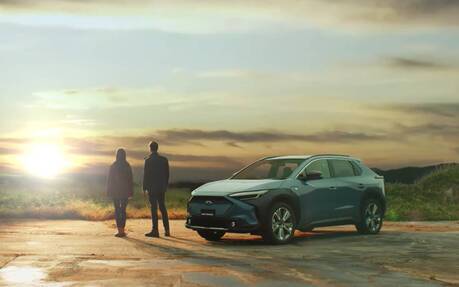 Subaru has officially introduced its first-ever all-electric vehicle, the Solterra. Built in a partnership with Toyota, this new model shares many components with the recently unveiled Toyota bZ4X.
The two vehicles use the same 71.4-kWh battery. Subaru claims the Solterra offers a range of 460-530 kilometres based on the WLTP standard, but expect the actual number in Canada to be lower than that. Still, drivers should be able to travel more than 400 kilometres.
At 4.69 metres long, the Subaru Solterra is slightly larger than Forester, yet smaller than the Outback. It arrives as a direct threat to the Ford Mustang Mach-E, Nissan Ariya, Hyundai IONIQ 5 and other similar electric SUVs.
New Yet Familiar
Despite some pretty bold looks, the new Solterra is not a revolution in terms of styling. Some of the design cues will even feel familiar to Subaru enthusiasts.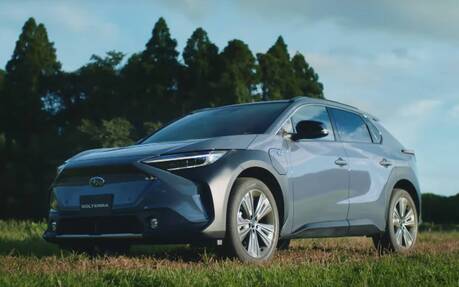 The raised suspension, plastic body cladding around the wheel wells and roof rails up top all give the Solterra an adventurous profile not unlike what we see on other models in the lineup.
The interior is admittedly a bigger break from tradition with a huge centre touchscreen highlighting the cockpit. Below are what appears to be touch-sensitive controls, while a fully digital instrument panel faces the driver.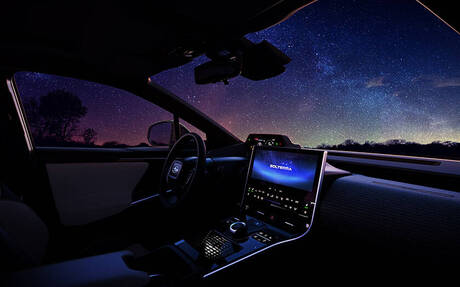 AWD… or Not
As this was a global debut held in Japan, some of the details for Canada have yet to be confirmed. Subaru mentioned the choice of front-wheel drive and all-wheel drive, but considering that all Subaru models we have here except the BRZ come standard with all-wheel drive, the Solterra won't be any different, using one motor to drive the front wheels and another one to drive the rear wheels.
The 2023 Subaru Solterra is slated to go on sale in mid-2022. We'll have more information and pictures to share next week following its North American premiere at the 2021 Los Angeles Auto Show, so watch this space.