Ferrari BR20 is the Latest One-Off From the Prancing Horse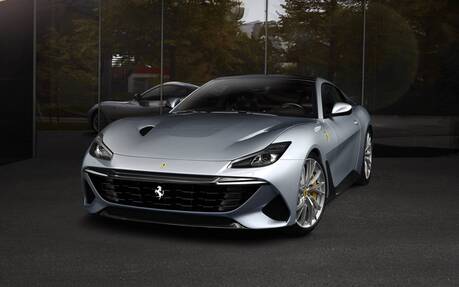 Ferrari is no stranger to highly exclusive cars. The Monza SP1 and SP2 introduced in 2018 and limited to a combined 499 units are a perfect example, but the automaker also has a One-Off series of unique, absolutely bespoke models crafted to the specifications of a customer and designed as a clear expression of their own unique requirements.
Last year we saw the Ferrari Omologata. Now meet the Ferrari BR20, a two-seat coupe that's similarly one-of-a-kind.
Based on a GTC4Lusso except three inches longer and with no rear seats, the BR20 captures the spirit of Ferrari coupes from the 1950s and 1960s including the 410 Superamerica and 500 Superfast.
A long black roof panel connects the windshield to the rear window. In a modern take on the company's "flying buttress" theme, the rear roof pillars have been hollowed out to create an aerodynamic channel with the air outlet concealed by the black rear fascia under the spoiler. Meanwhile, the twin round taillights mirror the custom twin exhaust tips which are lower and set into a prominent aerodynamic diffuser with active flaps.
Next, check out the carbon fibre side skirts that blend into the front fenders to emphasize the air vents, plus the 20-inch two-tone wheels in a diamond finish that were also created specifically for this unique car. Carbon fibre and even a bit of chrome (that's right, chrome on a Ferrari) accentuate the front grille, which features new horizontal slats and is flanked by redesigned, slimmer headlights.
As for the interior, two shades of brown leather are combined with carbon fibre and oak trim for a rich blend of classic and modern styling. The seats sport an exclusive pattern at the front as well as silver cross-stitching. In the back, Ferrari says the trunk conceals a deeper loading area.
There are no powertrain specs or performance figures, but we know that the V12 engine has been retained. If it's exactly the same that was found in the GTC4Lusso with all-wheel drive, then the BR20 has 680 horsepower and 514 pound-feet of torque, enough to accelerate from 0-100 km/h in less than 3.5 seconds.
The price is a mystery, too. Considering the donor car retailed for just under $350,000 CAD, we bet the BR20 is close to half a million.