New Cars Are Selling at Record Prices, Flying Off Dealer Lots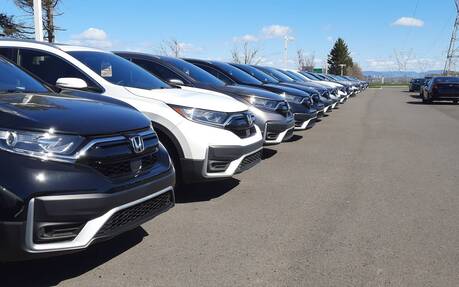 New vehicle inventories continue to be severely impacted by various supply and production issues, and Canadian sales directly reflect that.
The average transaction price of a new vehicle in the third quarter increased to $42,744, according to J.D. Power. That's an all-time high.
Meanwhile, automakers have slashed incentives, bringing them to their lowest levels on record at $3,800 per vehicle. They were at $5,700 in the same period two years ago.
Despite new vehicles being more expensive, you don't see many people stretching their car loans to 84 or 96 months. That's because trade-ins are worth a whole lot more, too, J.D. Power notes.
The one variable that could change that in the next year, of course, is a rise in interest rates. Or several of them. Scotiabank, among others, predicts at least six interest rate hikes during the second half of 2022 and first half of 2023.
Another telling indicator is new vehicle turnaround. The time vehicles spend on dealer lots, from the moment they arrive to the moment they are sold, is normally 70 days on average. Now it's 47 days.
High-demand models such as some light-duty pickups are selling in less than a week's time. J.D. Power says 53 percent of all new vehicles currently sell within 20 days.
Following last year's 20 percent drop in new vehicle sales in Canada, to 1.55 million units, 2021 should end with a slightly higher number, but that doesn't mean automakers will be jumping with joy. Component shortages, most notably chips, remain a very real and large concern.
Sales plunged 19.6 percent in September and 17.7 percent in October, according to DesRosiers Automotive Consultants. Fortunately for dealers, profit margins on vehicles are holding steady at 6 percent, or about double the normal.