2022 BMW
2 Series

Coupe: Entry-Level is Just a Label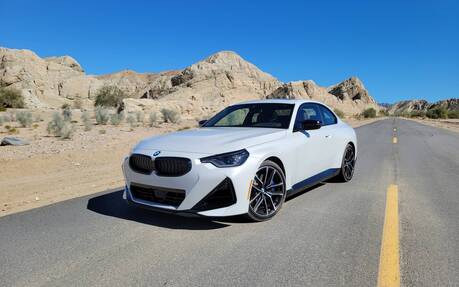 The BMW 2 Series Coupe has undergone an aesthetic remodel, accompanied by technological additions and light mechanical iterations for 2022. The one that serves as an entry level to the Bavarian brand's Canadian automotive catalogue is also available as a Gran Coupé (which is the fancy term for sedan in BMW lingo), but it differs considerably from the Coupé on a critical technical level. In addition to having two additional doors, the small sedan sits on a front-wheel drive platform.
The 2 Series Coupe, on the other hand, uses a rear-wheel drive architecture, which generally guarantees a sportier character. Two variants will initially be marketed, the M240i will hit dealerships first, it is equipped with xDrive all-wheel drive and powered by a turbocharged six-cylinder that develops 382 horsepower. Later, the rear-wheel-drive 230i powered by a 255-horsepower turbocharged four-cylinder will make its way to Canada. We do not have any details on the new M2 at this time.
The Car Guide travelled to the Thermal, California BMW testing facilities to put this new 2022 M240i xDrive through its paces.
A More Subtle Grille
Upon laying our eyes on the new 2 Series back when it was initially unveiled, we joyfully noticed that it had been spared the decidedly dramatic front grille design that has recently hit some of the brand's models. Which, depending on aesthetic preferences, can be an advantage in itself.
The Series 2 grew in size. It gained 88 mm in length and 66 mm in width. These new dimensions give it almost the same length of an older 3 Series E46 from the turn of the millennium, but with several hundred millimetres more in width. These improved dimensions translate into a beefier presence than the outgoing generation, and by the same token makes this entry-level car more physically attractive.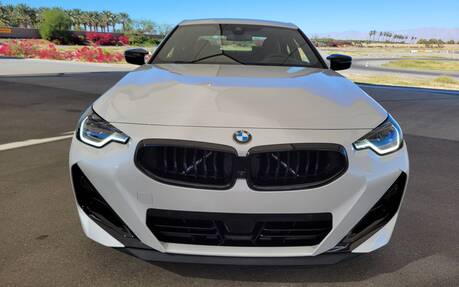 The 2 Series is a Little Too Cozy Inside
Despite its enhanced exterior dimensions, the BMW 2 Series Coupe still feels cramped on the inside and access to its rear seats difficult. But whoever's in the driver's seat will benefit from a great driving position with optimal visibility.
As far as ergonomics go, the dashboard seems to have been thought out down to the millimetre. The controls are tilted slightly towards the driver and are made from an amalgamation of simple, but high-quality material and the infotainment system is intuitively presented on a crystal-clear screen. On the other hand, using the HVAC controls was a curiously difficult process, especially when trying to modulate fan speed.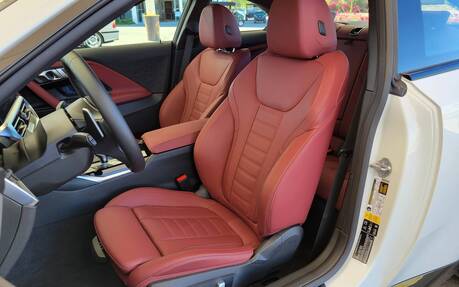 It's About Thrills at the Wheel
Mechanically, the new M240i is still powered by the turbocharged 3.0-litre inline six. But it now churns out 382 horsepower and 369 lb-ft of torque. This engine is mated to an eight-speed automatic transmission that powers the xDrive all-wheel drive. The M240i variant also uses an M Sport rear differential. Unfortunately, the manual transmission did not make what would've been a well-appreciated return.
Compared to the outgoing generation, this M240i provides an additional 47 horsepower which you can feel in the power delivery throughout the range. The eight-speed gearbox delivers seamless gearshifts in comfort mode. Twist it to Sport mode, and these changes become noticeably more abrupt, giving up a bit of comfort for speed of execution as the 12.3-inch digital instrument cluster gets swarmed in red. The stainless steel paddle shifters obviously add to the experience and will slightly console third pedal lovers.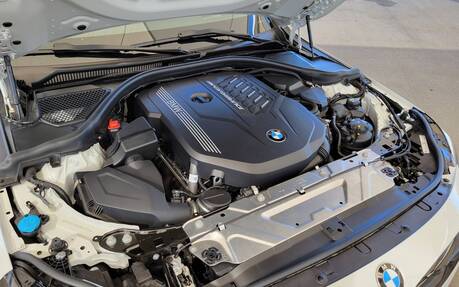 In day-to-day driving situations, the M240i may seem rather rough when it comes to ride comfort, even with the improved adaptive suspension and the drive mode selector in comfort mode. But venture on an inviting sinuous road garnished with well-defined apexes, and that slight discomfort will fade to give way to thrills and chills as you grip along with great precision towards the horizon. And if you get yourself into trouble in the process, the M240i's brakes live up to the ambitions of the best (and worst) drivers.
The 2 Series Coupe rolls out a red carpet of an entry level, especially in its M240i xDrive variant. Apart from its somewhat basic rolling comfort, its cramped interior and the fact that its manual gearbox is gone, this sports car is very generous in terms of sportiness, especially with its starting price of $56,950 which is dead on target.
Video: Our 2022 BMW i4 First Drive
Test drive report
Test model

2022 BMW 2 Series

Trim level
M240i xDrive Coupe
Price range
$38,990 – $72,200
Price as tested
52 500 $
Warranty (basic)
4 years/80,000 km
Warranty (powertrain)
4 years/80,000 km
Fuel economy (city/highway/observed)
11,3 / 7,9 / N/A L/100km
Options
N/A
Competitive models
Acura ILX, Audi A3, Cadillac CT4, Mercedes-Benz CLA, Mercedes-Benz A-Class, MINI 3 Door, MINI 5 Door, MINI Convertible
Strong points

Excellent power delivery
Great driving dynamics
Surgical steering

Weak points

Firm suspension for everyday driving
Cramped interior
No manual gearbox

Editor's rating
Fuel economy
N/A
Comfort
Seating is confortable, but the ride is firm.
Performance
Excellent performance from the turbo six.
Infotainment
Clear, easy-to-use screen. HVAC controls could use some tweaking.
Driving
It's hard to find anything wrong with the driving dynamics.
Overall
The M240i xDrive offers a great price/performance ratio.