New Porsche
718 Cayman

GT4 RS Takes Cayman to Extremes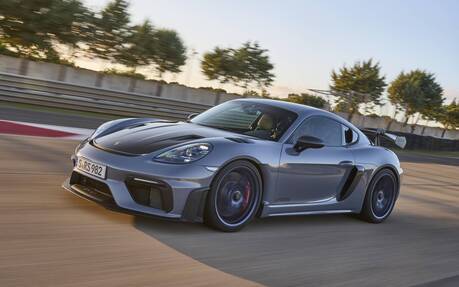 Porsche's entry-level sports coupe is adding a new flagship model. Say hello to the 718 Cayman GT4 RS, which celebrates its world premiere today at the 2021 Los Angeles Auto Show.
An uncompromising driver's car designed to impress with its lightweight construction, extremely agile chassis, sophisticated aerodynamics and unique soundtrack, this purist's dream weighs only 1,415 kg and generates up to 493 hp, which is 35 kg lighter and 79 hp more powerful than the 718 Cayman GT4.  On Germany's world-famous Nürburgring Nordschleife, it outperformed its sibling by more than 23 seconds. Can you believe that?
The naturally aspirated flat-six engine, which can rev as high as 9,000 rpm, is derived from the 911 GT3 production model and the 911 GT3 Cup race car. We should also tell you that maximum torque has been increased from 309 lb-ft. in the GT4 to 331 lb-ft. in the RS.
Like every other modern RS, this one is exclusively available with Porsche's seven-speed dual-clutch transmission (PDK), allowing sprints from 0-100 km/h in just 3.4 seconds, or half a second quicker than the GT4. Top speed is increased from 302 km/h to 315 km/h.
The weight reduction applied to the 718 Cayman GT4 RS includes the use of carbon fibre-reinforced plastic (CFRP) for components such as the front lid and fenders. Lightweight carpets also save weight, as does reducing the amount of insulation material. The rear window is made of lightweight glass, while the lightweight door panels feature textile opening loops and nets on the storage compartments.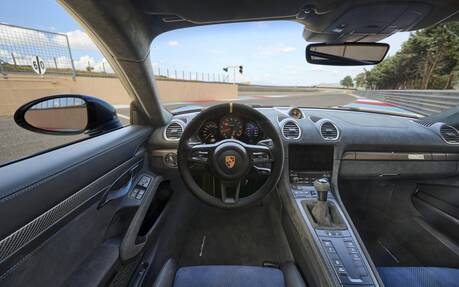 Visually, you can recognize this new model with new process air intakes (behind the driver and passenger windows) that are said to improve the intake airflow and create a more captivating intake noise right next to the occupants' ears. Of course, it's impossible to miss the new fixed rear wing with a swan-neck attachment and aluminum wing supports.
In Performance mode (reserved for track use), and combined with the 30 mm lower ride height, the GT4 RS generates approximately 25 percent more downforce than the GT4. Also helping are the eye-catching vents on the front wheel arches, aerodynamically optimized underbody paneling with connected rear diffuser, multi-adjustable front diffuser and new front spoiler lip with flow-around side blades—pretty sophisticated stuff.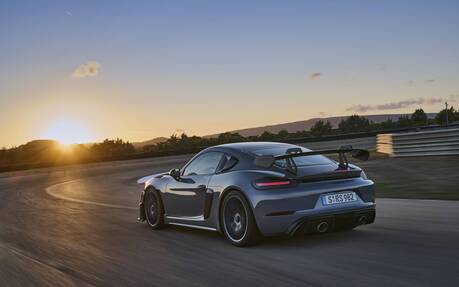 Meanwhile, Porsche engineers have revised the ball joints that bind the chassis to the body, installed RS-specific shock absorbers and modified spring and anti-roll bar rates in order to deliver even more precise and direct handling.
If you're still not satisfied with all of the above (and more we haven't covered), the optional Weissach package takes the dynamic design of the GT4 RS even further. It adds a carbon-weave finish to the front lid, process air intakes, cooling air intakes, airbox cover, exterior mirror upper trims and rear wing. The titanium tailpipes look similar to the exhaust system on the Porsche 935, and 20-inch forged magnesium wheels are available.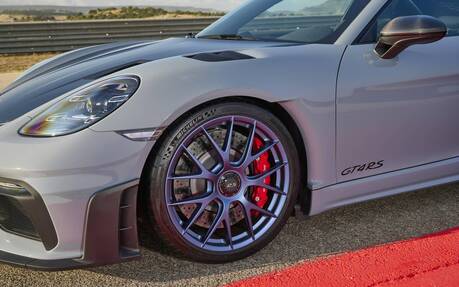 The new Porsche 718 Cayman GT4 RS can be ordered now in Canada at a base price of $166,600. Deliveries will begin next summer. The Clubsport racing version, also celebrating its premiere in Los Angeles, will be launched in several national and international racing series starting in 2022.
Watch: 2022 Porsche 911 GT3 Test Drive at Circuit Mont-Tremblant