Vietnam's VinFast Lands in America With Two Electric SUVs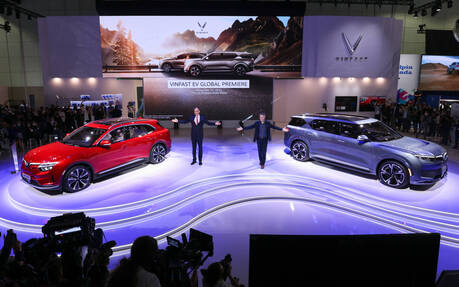 Wealthy Vietnamese automaker VinFast chose Los Angeles as its home base for North American operations, and fittingly its first two vehicles made their debut at the 2021 Los Angeles Auto Show this week. They will hit the road in late 2022.
In North America, these models will be called VF e35 and VF e36. The former is compact-sized, while the latter is a three-row midsize SUV. Production will take place in Vietnam, but there's a plan to open a factory somewhere on our shores in the second half of 2024.
What we have for now are pre-production, almost concept-like vehicles. The VF e36 shown in Los Angeles didn't even have an interior—all we got were a few computer-generated images. Still, the final result is expected to be fairly similar.
Italian and American Influence
Styling is the work of renowned Italian design studio Pininfarina, both inside and out. The front end looks unique, but we're not sure everyone will like it. LED light bars are featured front and rear. As you can see, the VF e35 is more conventional and has smoother lines, while the VF e36 boasts edgier, boxier looks complete with flush-mounted door handles and distinctive C-pillars.
The highlight of the cabin is a large 15.4-inch centre touchscreen similar to Tesla's. There is no instrument panel in front of the driver. Rather, key vehicle data is projected onto the windshield by a full-colour head-up display system.
As for the technical aspects, each VinFast model will offer a choice of two batteries. The VF e35 will have a range of 460-510 kilometres, while the VF e36 will be able to cover 485-680 kilometres based on current estimations. If these numbers hold up, the competition will be jealous. Maximum output is rated at 402 horsepower for both, and all-wheel drive is included.
We've also learned that 14 cameras, 19 360-degree sensors and a LiDAR system combine to enable level-3 semi-autonomous driving.
Select Markets First
It's important to note that VinFast won't have traditional dealerships, relying instead on a direct sales model similar to Tesla's. Reservations will open next spring. In the U.S., VinFast will launch in California first, which probably means that select Canadian provinces will be prioritized, as well.
The company says that early adopters will benefit from a concierge-type service where a technician goes to your home or workplace to perform maintenance and repairs. Another interesting option for customers is the ability to rent the battery and trade it for a more advanced one in the future.  
Subscribe to our newsletter to get the latest on VinFast.