2022 Ford Maverick: A Little Truck Full of Surprises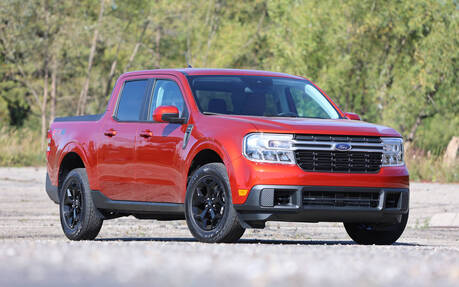 GM used to brag about offering the most complete line of pickups on the market, but now Ford would beg to differ. It's not just that the Blue Oval company brought back the Ranger a few years ago and that a new generation is on the way. The fully electric F-150 Lightning will hit the road sometime in 2022, while at the bottom of the ladder there's the brand new Maverick, the smallest, cheapest and most efficient pickup there is.
Don't laugh, because with gas prices on the rise again and cities getting more dense and more congested than ever, many people are looking for exactly that—a more compact truck that offers great versatility and fuel economy.
Now, about the name. If you remember, Ford sold a compact car by the name of Maverick in the 1970s. It was a direct response to small, efficient models that started to arrive from Japan. Well, the modern-day Maverick is similar in many ways, taking the torch from discontinued Ford cars including the Focus and Fusion, not to mention the poor-selling and soon-to-be-extinct EcoSport small SUV.
With the Maverick, Ford is targeting first-time buyers, used-pickup buyers who would like to purchase something new for once, and sedan owners who want a more practical alternative at a comparable price.
And the funny thing is that Ford is not alone. Hyundai has launched the Santa Cruz, which is about the same size. A key difference is pricing: the new Korean pickup starts at $38,499 in Canada, while the Maverick retails from just $25,900. Of course, the former has bolder looks, a more luxurious cabin and more power under the hood, so it's not exactly aimed at the same customers.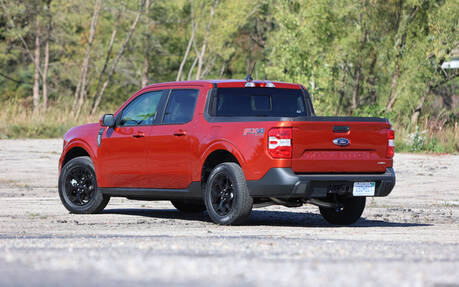 Escape DNA
The 2022 Ford Maverick shares many components with the Escape including the chassis and powertrain options. Don't worry, there's no three-cylinder engine in the pickup. Amazingly, base models feature a hybrid system and can tow up to 2,000 pounds. They're also rated at a combined 6.3 L/100 km, which we had little trouble duplicating with our XLT tester—6.2 L/100 km over more than 330 kilometres.
Granted, performance is underwhelming. The Maverick Hybrid's 162 ponies do a decent enough job, but they pale in comparison to the 250 horsepower delivered by the optional 2.0-litre EcoBoost engine. And sadly, there is no hybrid-AWD combo, unlike the Escape. Are we missing something here? Ford's explanation is that the gas-electric Maverick is mainly designed for urban drivers, so they attempted to make this variant as affordable and efficient as possible.
If you select the 2.0-litre EcoBoost, prepare to burn as much as 40 percent more fuel, or about 10.5 L/100 km. The extra costs at the pump add to the $2,500 premium you must spend to get the more powerful Maverick in the first place. By the way, XL and XLT models can be specified with both engines, while the top-line Lariat is exclusively available with the EcoBoost.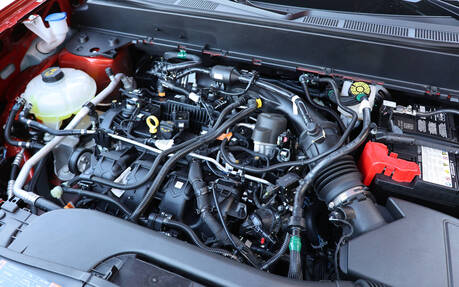 Redefining Practicality
The 2022 Ford Maverick comes with a so-called FLEXBED that measures 4.5 feet long. Depending on the model, you can have it with high-resistance lining, LED lighting, all sorts of adjustable anchor points, a 120V power outlet and 12V electrical power prewired to a removable cover on either side of the back of the bed to support DIY electrical projects.
A clever solution is the multi-position tailgate with a halfway-open position. Just unclip the support cables and hook them onto the latch pins so the tailgate lip and wheelhouses can support up to 18 sheets of 4'x8' plywood without needing to angle the panels.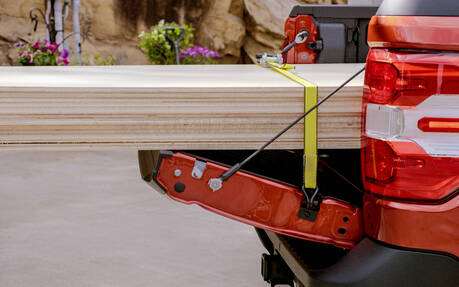 Inside the cabin, three people can sit in the rear while enjoying adequate room. Under the seat, you'll find some pretty useful storage compartments along with a Lariat-exclusive subwoofer. On the flip side, neither the seat bottom nor the seatback is split, so that means you can't accommodate large items and rear passengers at the same time.
In XL trim, the Maverick is a handy toolbox that unfortunately lacks some tools. We suspect most customers will opt for an XLT model, which is better equipped and offers a Luxury package (8-way power driver's seat, full-size spare tire, spray-in bedliner, bed tie-down locking rails, 120V outlet, trailer hitch, heated seats and steering wheel, and more) for $3,300.
Those who purchase a Maverick Lariat with the 2.0-litre engine also have several options and packages to choose from, but the price can get dangerously close to the Ranger or the aforementioned Santa Cruz, making this top-line trim less attractive or at least harder to justify.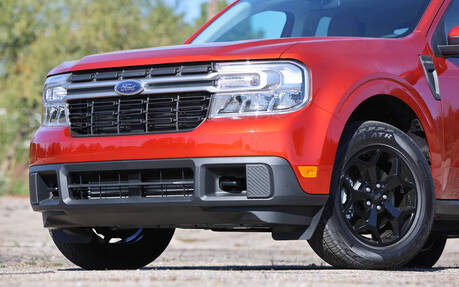 Handles Like a Car
While the Ford Maverick looks like a truck in terms of design and driving position, it handles more like a car and almost feels fun on the road, showing good agility and a short turning radius. The increased performance and quicker acceleration delivered by the 2.0-litre EcoBoost sure are nice, but driving a pickup that sips even less gas than a Honda Civic is arguably more satisfying.
And just because of that, the Maverick will inevitably prove to be a success for Ford, prompting other manufacturers to make similar moves. There are so many people who are sick and tired of paying big fuel bills but don't want to go all-electric. The hybrid variant completely hits the bull's eye. We just hope the company will pair it with AWD at some point, which would make the Maverick a perfect fit for legions of Canadians.
Watch: 2022 Ford Maverick is the New Cowboy in Town
Test drive report
Test model

2022 Ford Maverick

Trim level
XLT Hybride TA
Price range
$25,900 – $34,450
Price as tested
32 595 $
Warranty (basic)
3 years/60,000 km
Warranty (powertrain)
5 years/100,000 km
Fuel economy (city/highway/observed)
5,9 / 6,8 / 6,2 L/100km
Options
N/A
Competitive models
2022 Honda Ridgeline, 2022 Hyundai Santa Cruz
Strong points

Great fuel economy (hybrid)
Practical size
Comfortable and versatile cabin

Weak points

No hybrid AWD model
Non-split rear seats

Editor's rating
Fuel economy
The most fuel-efficient pickup on the market.
Comfort
Comfort and space are aplenty.
Performance
The hybrid model lacks power but the EcoBoost variant impresses.
Infotainment
While it lacks some functions, the infotainment system is easy to use.
Driving
The ride is commendable and handling is surprisingly good.
Overall
With gas prices on the rise again, the Maverick couldn't come at a better time.