All-new Ferrari Daytona SP3 is a Stunning Nod to Past Race Cars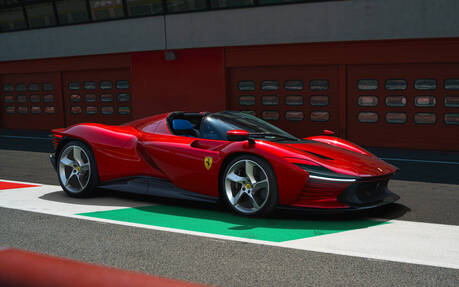 On February 6th 1967, Ferrari pulled off one of the most spectacular feats in its entire history when it took the top three places at the 24 Hours of Daytona. As it prepares to celebrate the 55th anniversary, the Italian automaker unveiled the all-new Daytona SP3.
It's the latest addition to Ferrari's Icona series which debuted in 2018 with the Monza SP1 and SP2.
The design of the Daytona SP3 is absolutely stunning—not as clean and pure as the recently introduced 296 GTB, but extremely racy and aerodynamic in a tribute to race cars of the 1960s. In fact, thanks to unprecedented features such as chimneys that extract low-pressure air from the underbody, the Daytona SP3 is the most aerodynamically efficient car ever built by Ferrari without resorting to active aero devices.
Check out the superbly integrated front spoiler and the many horizontal blades that wrap up the rear end, above the huge diffuser, giving the car a unique, futuristic look while still channelling past icons like the famous 330 P4.
Another key element is the butterfly doors, which have an air box integrated into them to channel air to the side-mounted radiators. Meanwhile, the clean, double-crested front wings are a nod to the sculptural elegance of past Ferrari sports prototypes of the likes of the 512 S, 712 Can-Am and 312 P, the company says.
The Targa-style body featuring a removable hard top hides a chassis that's built entirely from composite materials using F1 technologies that have not been seen in a road car since the LaFerrari. The seats are an integral part of the chassis in order to reduce weight and offer a driving position similar to that of a race car.
Speaking of which, the adjustable pedal box means each driver can find the most comfortable position. And just like a few other Ferrari models in the current lineup, there is no centre screen in the Daytona SP3, only a large 16-inch digital display in front of the steering wheel.
As for performance, the Daytona SP3 sports a naturally aspirated, mid-rear-mounted 6.5-litre V12 that delivers 828 horsepower—more than the 812 Superfast and a new high for non-hybrid Ferrari engines. Peak torque is 514 pound-feet. More impressive is the 9,500 rpm redline. Equipped with a seven-speed transmission, the car can accelerate from 0-100 km/h in 2.85 seconds and from 0-200 km/h in just 7.4 seconds.
Production of the Daytona SP3 will be limited to 599 units. Ferrari's marketing and sales manager, Enrico Galliera, has confirmed that all 499 owners of the Monza SP1 and SP2 have purchased an SP3. Private collectors have already reserved the remaining 100 units. Each one costs about $2.25 million USD, or the equivalent of $2.85 million CAD.