2022 Hyundai Elantra N: Chasing the Golf GTI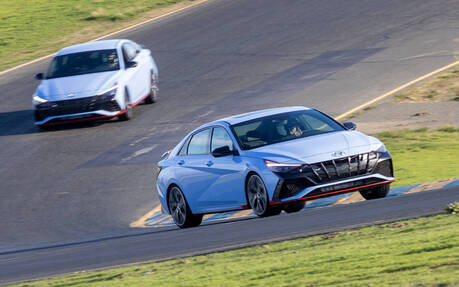 The all-new 2022 Hyundai Elantra N is South Korea's new 276-horsepower compact sports sedan, complete with a standard six-speed manual gearbox and available eight-speed dual-clutch transmission.  
It can rival Germany's Volkswagen Golf GTI with serious performance credentials and a number of goodies including an old-school hand brake. There's a lot of fun to be had with this car, trust me.
I recently found myself putting the Elantra N through its paces at the Sonoma Raceway, in California. This is a very challenging, four-kilometre-long track with 12 turns that command respect.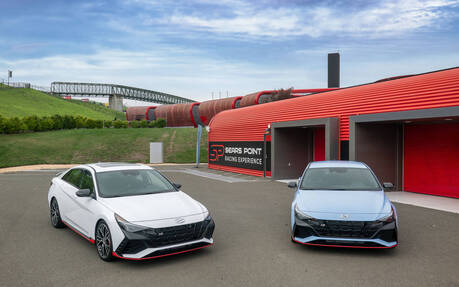 More Rigid Chassis
It immediately became clear to me that the N is no ordinary Elantra, and a significant improvement over the sportier Elantra N Line. The chassis is much more rigid thanks in part to a red-painted brace in the trunk, just behind the rear seats.
The suspension consists of MacPherson struts up front and a multi-link setup in the rear along with electronically controlled dampers that adjust to the drive mode you select. The brakes feature 360-mm front and 314-mm rear discs, while a hydraulic system pre-charges the brakes when you release the throttle for instant response as soon as you hit the brake pedal.
The Elantra N handles remarkably well on the tarmac, even though track driving is not its main focus, and the electronically controlled limited-slip differential does a great job of mitigating understeer.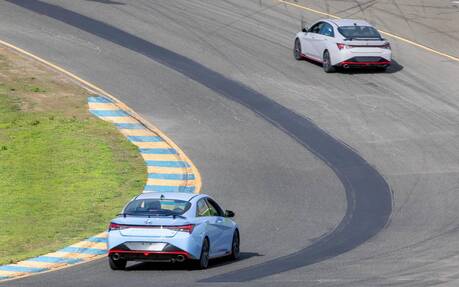 Proper Soundtrack
The variable exhaust valve system, which delivers the exhaust overrun 'pop' and 'crackle' elements, uses linear control to reduce booming during idling, while maintaining the distinctive N exhaust note at full throttle. The eight-speed DCT features rev-matching technology, automatically matching the speed of the engine when downshifting to optimize gear shifts. The standard manual gearbox has a similar feature, which will be appreciated by drivers who are not versed in heel-and-toe shifting.
As mentioned up top, the turbocharged 2.0-litre four-cylinder engine in the Hyundai Elantra N generates 276 horsepower. However, the steering wheel with paddle shifters includes the N Grin Shift button (DCT only), raising horsepower to 286 for up to 20 seconds. Peak torque of 289 pound-feet is accessed from 2,100-4,700 rpm.
The DCT can be controlled via said paddle shifters, but as I found out it does an amazing job when left to its own devices, always selecting the right gear even on the track.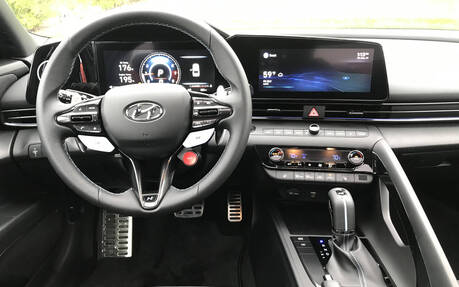 Standard Sport Seats
The Elantra N has the same ride height as the regular Elantra, but the fantastic N sport seats are 10 mm lower for high-performance drivability. On the steering wheel are two light-blue buttons for the N driving modes, which can be customized and matched in various combinations to suit various drivers. Both the centre display and digital instrument cluster have N-specific graphics.  
As for styling, you can recognize this model with 19-inch wheels on Michelin Pilot Sport 4S tires, red accents on the body, a black grille with N badge, a rear diffuser and to top it all off a raised spoiler on the trunk lid.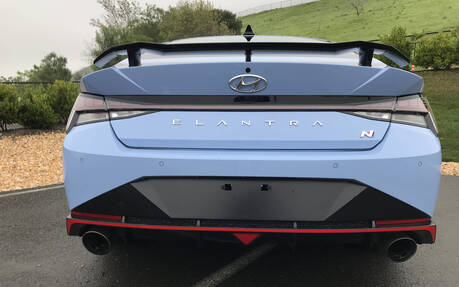 Bottom Line
The exciting 2022 Hyundai Elantra N will be available in showrooms starting in January, offering a comprehensive list of features so you just need to pick from six body colours and specify the transmission you want. Pricing has yet to be announced, but it will probably be similar to the Golf GTI, which starts at $31,495 for 2022.
Test drive report
Test model

2022 Hyundai Elantra

Trim level
N
Price range
N/A
Price as tested
N/A
Warranty (basic)
5 years/100,000 km
Warranty (powertrain)
5 years/100,000 km
Fuel economy (city/highway/observed)
N/A
Options
Colour selection, Dual-clutch transmission
Competitive models
2022 Volkswagen Golf GTI (man), 2022 Subaru WRX, 2022 Volkswagen Jetta GLI (man)
Strong points

Strong engine
Fantastic exhaust system
Great handling
Dual-clutch transmission is a nice fit

Weak points

No all-wheel drive
Stock tires could be better
Road noise on public roads

Editor's rating
Fuel economy
N/A Not evaluated during this test.
Comfort
The engine is loud at high revs and road noise is notable.
Performance
Peak torque is accessible across a wide rev range and the dual-clutch transmission delivers remarkable shifts on its own.
Infotainment
The N-specific graphics and menus are nice. Apple CarPlay and Android Auto are both included.
Driving
The Elantra N sure is fun to drive.
Overall
Hyundai nailed the technical aspects of the car.