WayRay Holograktor Billed as World's First "Metaverse on Wheels"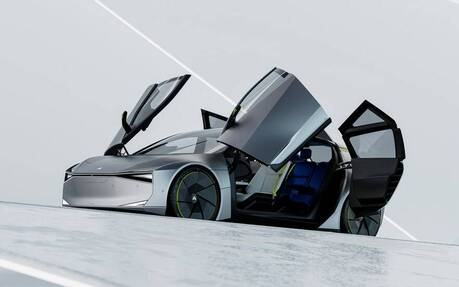 WayRay, a Swiss deep-tech company, claims to have unveiled the world's first car with ground-breaking holographic true augmented reality technology—a so-called "Metaverse on Wheels."
The Holograktor can either be driven conventionally or by remote control and is designed around a new ride-hailing business model, connecting the virtual and real worlds to offer a unique and personalized mobility experience.
"The idea is that you can choose Uber Black, Uber SUV or Uber Holograktor. And if you choose the Holograktor, your ride will be subsidized by sponsored content so that the price will be much lower," WayRay founder and CEO Vitaly Ponomarev said.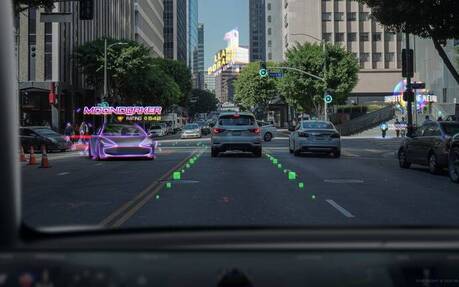 Backed by early investments from companies like Porsche, Hyundai and Chinese e-commerce platform Alibaba, WayRay is using the Holograktor car to emerge from its deep-ech automotive supplier status into the world of new mobility models.
The interior is designed around a novel 2+1 seating arrangement—the centrally mounted, single rear seat is actually referred to as a "throne"—since data shows that more than 80 percent of Uber trips are for one person only. Each passenger will have access to several holographic displays in front and on the side, with each seat fitted with joysticks for gaming and interacting with the content.
WayRay says the technology is ready for production, whether as a street-legal version of the Holograktor or in a partnership with other automakers.
As for the exterior, the Holograktor is a collaboration between WayRay designers and Sasha Selipanov, who previously worked on the Lamborghini Huracán, Bugatti Chiron, Koenigsegg Gemera and the Genesis Essentia concept. The various triangular shapes are nods to the Russian backgrounds of both Selipanov and Ponomarev, although the former also compares them to a prism like the one on Pink Floyd's Dark Side of the Moon album cover.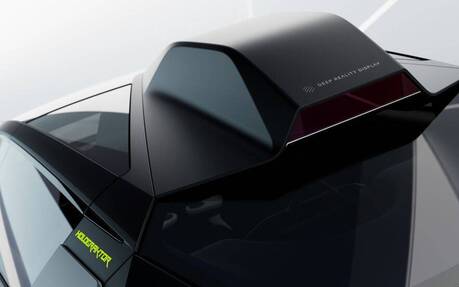 And if you're wondering about the weird-looking box shape on the roof, nicknamed "The Shrimp," it houses the holographic system for the rear passenger (the system for the front passengers is concealed within the dashboard). WayRay decided to prioritize the Holograktor's ride-hailing capability over hiding the technology.