Tesla Cybertruck Production to Begin With New Four-Motor Variant
Since October, the Tesla Cybertruck's specs are nowhere to be found on the company's website. Why? The polarizing electric pickup, which was originally introduced as a prototype in November 2019 and won't enter production before 2022, is currently undergoing last-minute changes. Significant ones, we might add.
Among others, we've just learned that a new top-line configuration with four motors (one controlling each wheel) has been added to the lineup and will actually be the first to roll out of the new Gigafactory in Texas. Tesla CEO Elon Musk said as much on Twitter.
Though performance numbers have yet to be specified, this powerful Cybertruck will replace the tri-motor variant that was previously announced with a price tag of $69,900 USD and a range of about 800 kilometres. We're guessing the price will be higher now, but it remains to be seen how much the extra motor will affect range.  
So, what is Tesla's motivation behind all of this? It's simple: the competition is a lot more serious and fiercer than it was two years ago. The Rivian R1T and GMC Hummer EV have entered or are entering production sooner than the Cybertruck. The former has four motors and the latter, three.
Additionally, the new electric Hummer's "Crab Walk" mode seems to have made Elon Musk jealous. He's once again confirming that the Cybertruck will offer similar four-wheel steering and be able to move diagonally.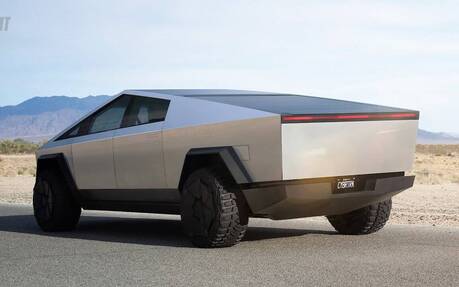 Tesla is used to being ahead of the curve and showing the rest of the world how it's done, at least when it comes to new technology, but this time it appears to be the other way around.
Incidentally, you can still make a reservation via Tesla's website. A fully refundable $150 deposit is required. You will be contacted sometime next year to complete your configuration.