2021 Ford Bronco: Between a Wrangler and a 4Runner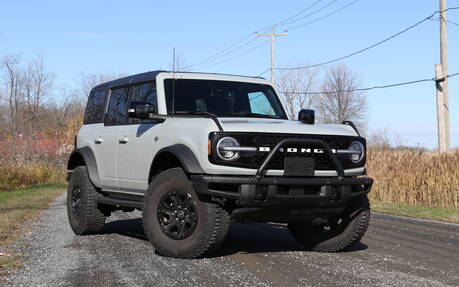 Nearly 12 months after its original introduction, the all-new Ford Bronco finally entered production in June of this year. It's hard to blame the automaker for the various supply chain and logistics issues caused by the COVID-19 pandemic, mind you.
The Car Guide had the opportunity to test-drive a four-door Bronco (a two-door body style is also available) for a full week earlier this fall, more specifically a top-line Wildtrak model starting at $59,994 without any options. We came away pretty impressed.
Fewer Engine Options Than the Wrangler
Unlike past V8-powered Broncos, the new generation offers a pair of smaller, turbocharged engines. The base unit is a 2.3-litre four-cylinder EcoBoost producing 300 horsepower and 325 pound-feet of torque. It can be mated to either a seven-speed manual transmission or a 10-speed automatic.
Standard in the Bronco Wildtrak is a 2.7-litre EcoBoost V6 that cranks out up to 330 horsepower and 415 pound-feet of torque. This one comes exclusively with the autobox.
By the way, the Bronco's primary competitor, the Jeep Wrangler, boasts much more impressive engine selection including four- and six-cylinder gasoline engines, a diesel V6, a HEMI V8 and even a plug-in hybrid powertrain.
The Wildtrak model also features the highly desirable Sasquatch package as standard equipment. The latter adds unique fender flares, longer-travel suspension, off-road tires and beadlock wheels that can be particularly useful when tackling sketchy terrain with low tire pressure.
Additionally, our tester had the Lux and High packages, all the required towing gear plus a few other extras. It ended up costing $71,289 (including destination), which is a hefty sum befitting for a seriously capable SUV.
Retro Meets Modern
The Ford Bronco first came onto the scene in 1966 and lasted 30 years. The sixth generation launched a full quarter of a century later and is inspired by the original Bronco. The headlights and grille are very similar.
The retro-looking, yet decidedly modern 2021 Bronco strikes a chord among nostalgic fans while attracting new, younger buyers. It looks rugged and beefy, especially with the Sasquatch package. Seemingly all the features desired by off-road enthusiasts are included, and the high price shouldn't be a problem when you consider how much success Jeep has with the expensive Wrangler.
Inside, the upright and massive dashboard looks a lot like the Wrangler's, ironically. The available 12-inch centre touchscreen is powered by the user-friendly SYNC 4 infotainment system. Some physical buttons remain along with a conventional shifter, but the 4x4 system is controlled via a rotary dial. The front and rear differentials can be locked and traction control can be switched off for driving in tougher conditions.
Overall, we liked the Bronco's interior space, ergonomics and all-around visibility, that last point being a refreshing change from many modern SUVs and crossovers.
Bronco On and Off the Road
The 2021 Ford Bronco only has two direct rivals: the aforementioned Wrangler and the Toyota 4Runner. In terms of on-road performance, we think it slots between the two.
Even in hardcore Wildtrak configuration, the Bronco is more compliant than a Wrangler Rubicon. Steering is sharper and the front end does a better job of gripping tight corners. Meanwhile, power delivery to the wheels is smoother, making for more pleasant daily driving.
Ford's 2.7-litre EcoBoost gives the Bronco ample power, as evidenced by lively acceleration and passing manoeuvres. It's a big part of what makes the Bronco so fun to drive. The 10-speed automatic transmission is a good performer, too, although some jerky action is experienced at lower speeds.
Stopping by the gas station will quickly take the smile off your face. The Bronco's aerodynamics are about as good as a refrigerator's, so the V6 needs more than 13 L/100 km on the highway. Around town, it burns at least 16 L/100 km. With gas prices expected to rise steadily in the next few years, you have to factor them into the equation.
We did a couple of off-road tests with our Bronco Wildtrak, taking it through muddy trails and bumpy gravel roads. Obviously, it never even broke a sweat in these not-so-challenging conditions. A proper evaluation far away from the beaten path is still necessary to make a final judgement.
Bottom Line
Ford has successfully resurrected the Bronco, which finds a happy middle ground between the dependable but aging 4Runner and the legendary but tiresome Wrangler. Let's just hope the early quality issues plaguing the Bronco will soon be ancient history.
Watch: 2021 Ford Bronco is Your New Off-Road Toy
Test drive report
Test model

2021 Ford Bronco

Trim level
Wildtrak 4 Portes
Price range
$40,499 – $71,289
Price as tested
71 289 $
Warranty (basic)
3 years/60,000 km
Warranty (powertrain)
5 years/100,000 km
Fuel economy (city/highway/observed)
12,8 / 11,6 / 14,0 L/100km
Options
N/A
Competitive models
2022 Jeep Wrangler, 2022 Toyota 4Runner
Strong points

Fun to drive
Many trim levels and configurations
Powerful and lively V6
Intuitive multimedia system

Weak points

Excessive noise at high speeds
Poor fuel economy
Can get pricey real quick

Editor's rating
Fuel economy
The V6 needs more than 13 L/100 km on the highway and at least 16 L/100 km around town.
Comfort
While not particularly smooth, the ride is more compliant than the Jeep Wrangler's.
Performance
Ford's 2.7-litre EcoBoost gives the Bronco ample power.
Infotainment
The available 12-inch centre touchscreen is powered by the user-friendly SYNC 4 infotainment system.
Driving
The Bronco is a blast to drive… if you can tolerate the excessive noise at high speeds.
Overall
The new Bronco has cool looks, strong power and capability to please adventurous drivers.