Hyundai Tucson Gains More Adventurous Model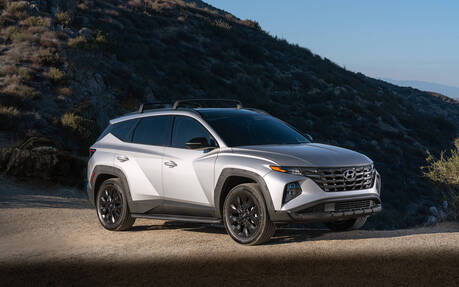 The Hyundai Tucson is now doing what a lot of vehicles are doing these days: adding a more rugged-looking model aimed at adventure-seeking families. Slotting in the middle of the lineup, it will sport the XRT badge in the U.S. and likely be renamed "Urban" in Canada, as is the case with the larger Santa Fe.
Bear in mind there will be a few differences between the two markets. Further details including Canadian pricing will be announced later.
More about looks than off-road capability, the new model visually stands out from other Tucsons with exclusive 19-inch wheels and accents in a black finish.
Other highlights include unique front and rear fascias with rugged detailing, prominent side cladding, black mirror caps, dark window surrounds, side steps, and approach lighting. Hyundai makes no mention of underbody skid plates. Inside, the seats and headliner are all finished in black.
The new Hyundai Tucson XRT/Urban will arrive as a 2022 model. It won't be available with the hybrid powertrain, only the 2.5-litre four-cylinder engine producing 187 horsepower.
Before you think about ordering one, make sure to consider alternatives like the Toyota RAV4 Trail, GMC Terrain AT4 and Subaru Forester Wilderness, not to mention the recently unveiled 2023 Mazda CX-50.
Watch: 2022 Hyundai Tucson Dazzles With Bold Styling