Jeep
Grand Wagoneer

vs. Cadillac Escalade: Clash of the Titans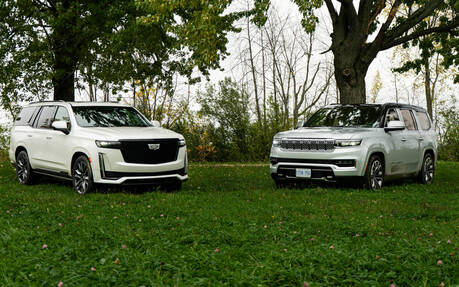 King of the hill for over 20 years, the Cadillac Escalade seems like it's in a class of its own. Sure, the Germans offer interesting alternatives, if not better depending on tastes and criteria - like the Mercedes-Benz GLS or the BMW X7 - but nothing as opulent, glitzy and simply in your face as what the Escalade offers. The arrival of this generation of Cadillac's flagship model brings some very important changes.
But we're here today to also discuss the arrival of a new rival: the 2022 Grand Wagoneer.
With Escalade buyers directly in its sight, the new Grand Wagoneer, while very serious in its intentions, faces quite a challenge. Not only must it compete on a technical basis, but it must also try to emulate the "Escalade culture" that has thrived over the years. Athletes, politicians, business people and actors have all trusted Cadillac's most opulent SUV for years, and that's a big part of the challenge for Jeep and its Grand Wagoneer. Let's be honest: dozens of Cadillac Escalades escorting the US president is quite the publicity stunt.
David vs. Goliath
Jeep is well aware of all of this, and catching a glimpse of its new 7-passenger behemoth shows it. Offered in 4 different versions in Canada (Series 1, 2, 3 and Obsidian), the Grand Wagoneer doesn't go unnoticed: 22-inch chrome wheels, chrome retractable side steps, front grille, window surrounds and other accessories ... Don't like chrome? The Obsidian version goes full badass with all black everything.
In addition, its very boxy appearance has a lot to do with it. Side by side with the Cadillac Escalade, the Grand Wagoneer makes a statement in terms of stature. On top of that, 16 "Grand Wagoneer" emblems are affixed throughout the SUV (both inside and out), which accentuates its imposing appearance. In contrast, only 2 "Jeep" badges can be found on the vehicle ... under the mirrors on each side! It appears the automaker is looking to move away from the traditional Jeep branding and put the odds in its favour in the luxury market. That said, while the exterior doesn't fail to impress, the real success story is the interior.
Interior Styling
First of all, there are no less than 7 screens with a combined surface area of ​​75 inches. Each passenger in the first and second row is entitled to their own screen, and each of them can watch Netflix or even play video games. What's more, Wi-Fi connectivity comes standard so the Grand Wagonner can always stay connected. You can also interact with the two screens in the second row using a remote control, since the "Fire TV" system marketed by Amazon is directly integrated into these screens.
Otherwise, a refrigerated compartment can be found in the centre console, and the second row of seats benefits from captain's seats. A central console is located in the center of these. The 4 main seats are heated and ventilated, at least in our test version (3 Series), while the front ones get massage functionality. What catches a lot of attention is the combination of the different colours of leather and wood found in the interior. Our test model sported an agave blue leather upholstery, and the contrast with the orange wood and the different stitching of the same colour is unquestionably beautiful. If a more classic look is what appeals to you, there is beige as well as black.
Quite frankly, it is probably more enjoyable to venture out on a ride aboard the Grand Wagoneer than the new Escalade. Everything seems more up-to-date, from the infotainment system to the "Fire TV" remotes, and the quality of finishes and materials is equal to if not superior to that of the Escalade.
But is this what consumers of these gigantic luxury SUVs are looking for? Do they really want a "blue and orange" colour scheme as well as the ability to binge-watch a Netflix series? Not necessarily, and making these elements the focal point of the cabin may become a double-edged sword for Jeep.
Big V8s
Apart from the styling and the various gadgets available, the Grand Wagoneer must also impress from a mechanical point of view if it intends to take on the Cadillac Escalade. Again, Jeep isn't fooling around here either. The behemoth comes standard with a 6.4-liter HEMI V8 that develops 471 horsepower and 455 pounds of torque. It can go from 0 to 100 km/h in 5.4 seconds: not bad for a truck that can tow up to 10,000 pounds and which weighs no less than 6,326 pounds! In fact, that's the same time as a 2022 Dodge Challenger R/T… An 8-speed automatic transmission ensures that this power is delivered to the wheels, while an adjustable air suspension takes care of making you forget the potholes.
On the Escalade side, a 6.2-litre V8 developing 420 horsepower is bolted under the hood. Buyers can also opt for a six-cylinder diesel engine at no additional cost. In both cases, electrified engines are conspicuous by their absence. Apart from this very conservative mechanical offer, the new Grand Wagoneer is almost without reproach. Imposing, refined, efficient, opulent and comfortable, it sure looks like a home run.
On the other hand, certain elements may put its commercial success at risk. It must first be established that this commercial success depends mainly on one thing: dethroning the Cadillac Escalade. It has to basically rob Escalade drivers from General Motors. Will its inherent qualities propel the Jeep to the top of its class? That's easier said than done.
The abundance of revolutionary technologies such as the semi-autonomous Super Cruise system or navigation with augmented reality is a reminder that Cadillac can (and will) put it all on the line. Hence, from a tech standpoint, Cadillac wins hands down, even if what the Grand Wagoneer offers is far from disappointing. While amazing, the technology included in the Escalade is by no means intimidating or intrusive.
Its integration and execution make it useful without being overwhelming or distracting. The trio of screens that combine to form a full 38-inch curved unit is ground breaking. Augmented reality, night vision or full navigation map, these are all the forms that the instrumentation panel can take, in addition, to the classic odometer and tach.
In the end, the Jeep Grand Wagoneer and Cadillac Escalade are both stunning. It will take time and a good marketing budget for Jeep to put a dent in the Cadillac Escalade's success. But it has all the tools to put up a good fight.