Ken Block's S1 Hoonitron is a Wild EV Tribute to an Audi Icon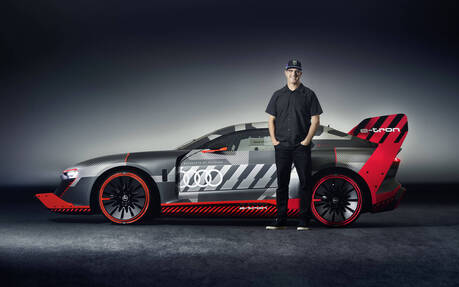 Rally champion and drift master Ken Block, who's now a brand ambassador and tester for Audi, is proudly standing next to his wild new ride, the aptly named S1 Hoonitron.
The design and name are inspired by the legendary Audi Sport quattro S1 that won Colorado's Pikes Peak Hill Climb in 1987, as well as a nod to the 1965 Ford Mustang Hoonicorn RTR owned by Block.
"The S1 Hoonitron combines a lot of what Audi was already famous for in the 1980s," said Block. "The car's spectacular aerodynamics have now been translated into a totally modern form. I think it's cool that the Audi designers have been inspired by their own past and uniquely transferred the car's technologies and appearance into the present."
Amazingly, Audi's chief designer Marc Lichte and his team took only four weeks from the first drawing—instead of the typical 12-18 months—to get to the final, mind-blowing result.
The car features two electric motors (output is unspecified), all-wheel drive, a carbon fibre chassis and the full safety standards as prescribed by the FIA. In November, Block was able to get a first crack at it in Germany.
"I'm familiar with a wide variety of cars using internal combustion engines and transmissions, but there were a lot of new things for me to learn here," he said. "Spinning into a donut at 150 km/h directly from standstill—just using my right foot—is an all-new experience for me."
The Audi S1 Hoonitron will star in a new video that Block and his crew plan to release in the next few months. Called Elektrikhana, it will be the next chapter in the famous Gymkhana series. You won't want to miss that.