2021 Ford Ranger Tremor: Not As Earthshaking As They Might Have Hoped
It's taken all these many years of driving pickup after pickup to finally admit: Yes, I like trucks. Perhaps it was the Ranger's slightly smaller stature or the gorgeous mint-green exterior colour (gets me every time), but something about this midsize truck finally got to me - in a good way. But perhaps not in the way Ford hoped the Ranger Tremor would.
When it comes to midsize pickups, there are actually a few more on the market than one might think. At first glance, the Ranger doesn't seem much smaller than an F-150, but line it up next to one and in actual fact the size difference is noticeable. Which is definitely part of the Ranger's overall appeal.
It may have disappeared from the market for a few years, but made its return for the 2019 model year, and just as GM revamped and brought back the Colorado and Canyon, and of course Jeep revealed its ready-to-take-on-anything Gladiator.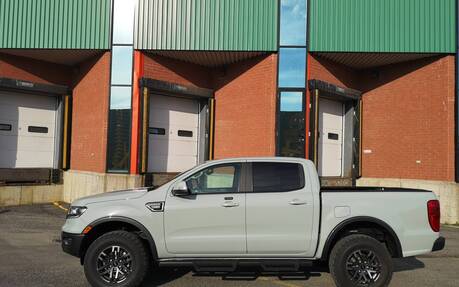 So, How Does the Ranger Stack Up Against the Competition?
Truthfully, the Ford Ranger sits high on the ladder at Ford in terms of design, performance and overall practicality, but it definitely has some climbing to do in terms of segment competition. Having driven all of the direct competitors for this particular midsize truck, it was clear to us that while the Ranger is a well-built and engineered pickup, it is lacking in certain areas.
For starters, the interior of the Ford Ranger leaves something to be desired. Sure, it's practical for workers and those who do decide to take it offroading (large buttons, not too many touchscreens or touchpoints), but it looks dated. Specifically, the steering wheel looks as if were taken from a Ford pickup a few generations in the past.
Now, of course, the lack of buttons and tech on the steering wheel can also be seen as a plus for those who take their Ranger Tremor (specifically) to less-than-desirable locations and want to focus on keeping their truck upright and travelling in the desired direction without distractions or buttons that can be accidentally knocked and pressed.
Small Size, Small Engine, Large Price
The most appealing feature about the Ranger Tremor, for me personally, is its smaller stature. Driving a pickup in urban situations can be daunting and difficult at times, but the shorter and thinner wheelbase of the Ranger helps it fit in much more easily on busy suburban streets and in crowded parking lots. Plus, the lower ride height means getting in and out is considerably easier, and the side steps help with that, as well.
Now, the Ford Ranger features a 2.3L inline-4 turbocharged mill that produces 270 horsepower and 310 lb-ft of torque, and power is handled via a 10-speed automatic transmission. Now, those aren't huge performance numbers for a pickup, that's true. But they are more than efficient for the Ranger's size and stature.
My main gripe with the Ranger is its 10-speed transmission. I have yet to drive a Ford with said transmission that I enjoyed. The gear changes are jerky, the downshifts lag and it just feels awkward. And no, I don't shift my own gears (although I can) because I don't want to spend all my time rowing through endless gears for no reason.
Now, our particular Ranger came equipped with the stellar Tremor off-road package (a $5,250 option) that includes a host of accessories designed to take the Tremor anywhere: FOX dampers front and rear, beefy off-road tires, electronic locking rear differential, skid plate, an offroad camera angle, etc. And while the package doesn't hugely change the exterior look of the Ranger, it most definitely influences the way it drives and handles - and in a good way. But is it worth the over-$50k price tag at the end?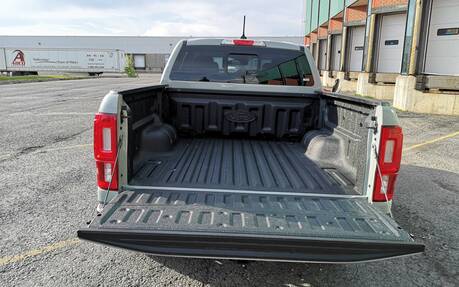 A City Truck with Woodsy Dreams
When Ford first announced they were launching a Tremor edition of the Ranger, the automotive world got pretty excited about it. Perhaps it was because we all immediately thought about the uber cool and badass Ford Raptor and thought, well it's obviously gonna be the same - just smaller.
Well, it's not at all a baby Raptor. Sadly. And we'd really hoped it would be. (And yes, we know there are rumours the Ranger Raptor is coming to the US … let's keep all the fingers and toes crossed for it making that northern border jump, too!)
There's no denying that the Ranger Tremor has what it takes to handle itself on sketchy terrain and on undesirable surfaces. It can tow (though not more than 7,400lbs). It can handle a payload. It can be practical and it can also be driven in the city. But it definitely doesn't make the earth shake - and for a package that adds $5,000+ to the already lofty price tag, since you need to start with the Lariat version before you can add the Tremor package, it just doesn't add up.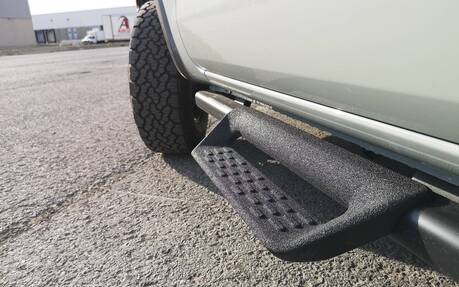 The Ford Ranger is a great truck. I loved it. As a Ranger. It doesn't need the Tremor package to make it cool or desirable. But, they can keep that lovely mossy green colour … just saying.
Test drive report
Test model

2021 Ford Ranger

Trim level
Lariat Tremor 4x4
Price range
CA$51,998
Price as tested
CA$51,998
Warranty (basic)
3 years/60,000 km
Warranty (powertrain)
5 years/100,000 km
Fuel economy (city/highway/observed)
11.8 / 9.8 / 11.4 L/100km
Options
Tremor Package
Competitive models
Chevrolet Colorado, GMC Canyon, Honda Ridgeline, Jeep Gladiator, Toyota Tacoma
Strong points

Comfortable suspension
Off-road ready
Decent interior space

Weak points

Expensive for what it is
Small bed
Interior is small-ish

Editor's rating
Fuel economy
Expected better from the smaller turbocharged engine
Comfort
Off-road suspension makes it super smooth on any surface
Performance
Decent pickup on the highway
Infotainment
Good size screen, easy to manipulate, but then there's SYNC...
Driving
Decent steering feel and easy to pilot in urban settings, as well
Overall
We expected a little more excitement from the Tremor