2021-2022 Ford F-150s Recalled Over Possible Driveshaft Fracture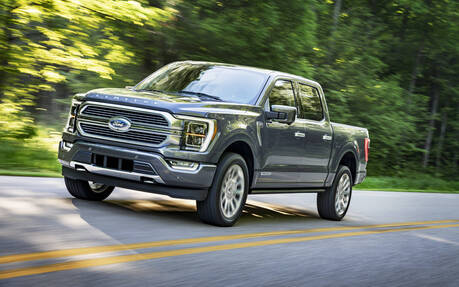 Ford is announcing a recall on nearly 185,000 F-150 pickups from the 2021-2022 model years in the U.S. because the driveshaft could fracture. More specifically, we're talking about Crew Cab units with four-wheel drive and the 302A package.
Transport Canada has yet to say how many units are affected by the recall on this side of the border.
As a result of "inadequate adhesion," the underbody heat and noise insulators "may loosen and contact the aluminum driveshaft," Ford explains. Over time, the marking and scoring that occurs to the driveshaft causes heat buildup and a material thickness reduction of the aluminum driveshaft, which could ultimately lead to a fracture. 
In such event, the truck could lose motive power while driving or move unintentionally while left in Park.
So far, 27 broken driveshafts on 2021-2022 F-150s are "potentially related" to this problem. The good news is that no injuries or deaths have been reported, but it's still a bit alarming to see a broken driveshaft on brand new or nearly-new models.
If you hear some rattling, clicking or clunking noise coming from under the vehicle, or if you spot loose or hanging insulators, watch out. Affected owners will receive a letter this winter asking them to take their F-150 to a Ford dealer for an inspection.
New attachment features will be added to the underbody insulators to ensure the insulation remains where it should be. If there is any damage to the driveshaft, it will be repaired or replaced as needed at no cost.
Watch: Miranda Lightstone Drives the 2021 Ford F-150 Lariat PowerBoost