Tesla to Eliminate "Passenger Play" Feature Allowing Gaming While Driving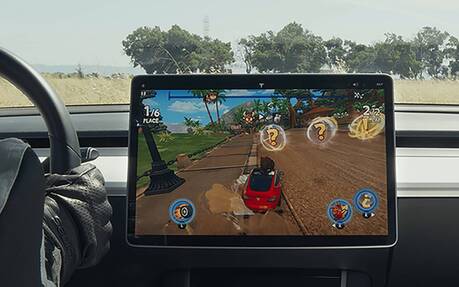 Earlier this month, in reaction to a story in the New York Times, the U.S. National Highway Traffic Safety Administration (NHTSA) started questioning Tesla about an over-the-air software update that was sent to most of its vehicles this summer and allows drivers to play video games on the centre screen even while driving.
Tesla does have a warning that says: "Playing while the car is in motion is only for passengers." And there's a button asking for confirmation that the player is a passenger. However, it's just as easy for the driver to press the button and play a game.
Pretty much everyone with common sense sees this as a bad idea. The NHTSA officially opened a probe this week, and two days later the automaker recognized it made a mistake, announcing it will pull the so-called "Passenger Play" feature.
All the vehicles that received the aforementioned update will now prevent any form of gaming or entertainment (like watching Netflix) when the vehicle is not parked, as other automakers do.
Texting while driving is a big enough problem already, with still too many drivers not getting the message despite all the awareness campaigns. There's no need to add yet another distraction.
And even though the Tesla Model Y was recently awarded a Top Safety Pick+ by the U.S. Insurance Institute for Highway Safety (IIHS) following the latest collision tests, we don't need to remind you that Tesla's Autopilot feature with available "Full Self-Driving Capability" is far from full autonomy yet.