2022 Rivian R1T: A Big Tesla for Adventurers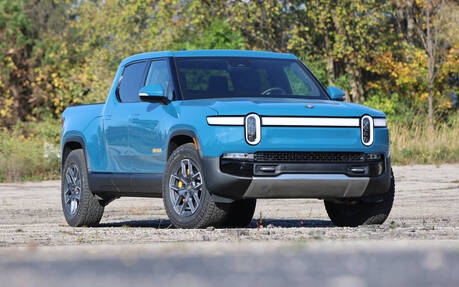 Now that Ford has broken ties with Rivian to develop electric vehicles on its own, the latter is free to do whatever it pleases. And what do you know? The brand's valuation recently topped $100 billion. Fueled by Tesla's meteoric rise, investors are hungry for more hot new EV companies to put their money on.
What is Rivian, anyway? The company was founded in Florida by Robert Scaringe, now 38, and currently operates from Irvine, California. Production takes place at a former Mitsubishi plant in Illinois, and it was announced a couple of weeks ago that a second factory will be built in Georgia.
What's more, Rivian has said it will install over 3,500 DC fast chargers at over 600 locations in the U.S. and Canada by the end of 2023. This Rivian Adventure Network, as it will be called, will also add some 10,000 Level 2 (240V) chargers known as "Waypoints" across North America.
Sounds familiar? Of course. Tesla has its own Superchargers all over the continent, and it plans to open them up to all EVs in the future. I didn't have time to inquire about that when I met the folks at Rivian, since I was only allowed 40 minutes to get familiar with the vehicle and its features, take it for a spin and stop for a quick photoshoot. However brief this first drive was, it answered a lot of questions.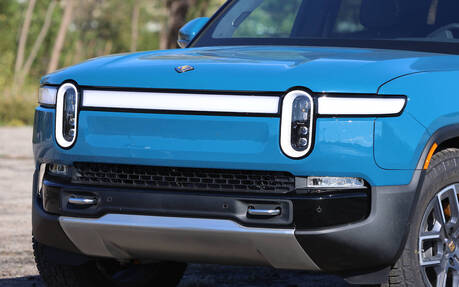 Medium Size, Large Capability
Let's make one thing clear: the Rivian R1T is not the same size as a Ford F-150—more like a Chevrolet Colorado or Toyota Tacoma, with a single bed length option (54 inches). It's not that big, really.
The unique, friendly-looking exterior boasts a lighting signature unlike any other. It's rugged yet classy at the same time. You'll find many clever innovations, too, like the 330-litre storage tunnel (large enough for a small adult to crawl through) behind the cabin, which you can access through small folding panels on either side of the bed. With a front trunk offering more than 300 litres of space and a versatile, modular bed in the rear, total cargo capacity amounts to 1,755 litres.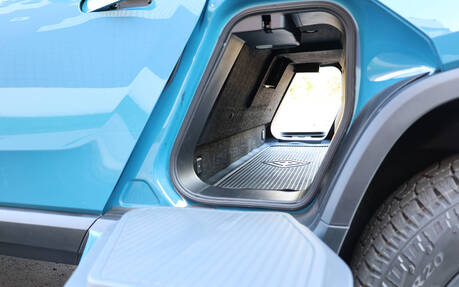 The clean and understated cabin of the R1T is exceptionally finished and beautifully modern. There's the now-typical combination of a centre touchscreen and digital instrument display, and similar to Tesla vehicles the controls on the steering wheel allow drivers to adjust the mirrors and scroll through the instruments including an extremely well-executed energy graphic.
The cabin comfortably accommodates five adults just like any traditional pickup, while the cargo bed has a payload of 1,760 pounds (798 kilograms)—comparable to a full-size model. Despite its smaller size, the R1T can still tow up to 11,000 pounds (4,989 kilograms). However, if you plan to move such heavy loads, you won't get even remotely close to the maximum advertised range.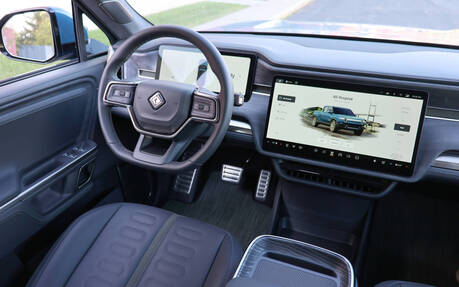 Range is Not a Problem
Equipped with a 135-kWh battery, the Rivian R1T can travel up to an estimated 500 kilometres, needing 27 kWh/100 km on average. That is, of course, if you don't use all the 800 horsepower at your disposal, which can take you from 0-100 km/h in just three seconds—unprecedented acceleration in a production truck. Believe me, this thing is explosive.
In fact, the R1T will out-race a Porsche 911 or Dodge Challenger SRT Hellcat on a drag strip. Even more impressive, it does so seemingly with a complete disregard for the laws of physics. The four-wheel independent air suspension does a wonderful job, as well, offering ride height adjustments up to six inches and enabling water fording up to three feet. Oh yeah, that's one electric vehicle that doesn't mind getting wet.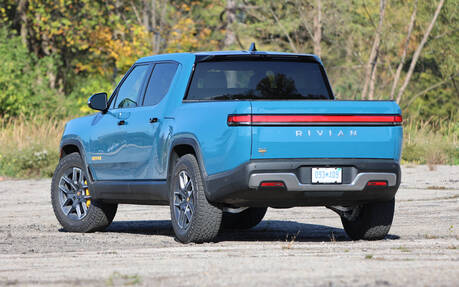 Multi-talented and a blast to drive, the R1T can be tailored to each driver's specific requirements with eight available drive modes including Sport, Range, Tow and more. On top of that, there are five off-road modes to choose from, so no matter what the terrain conditions are, you're always good to go.
A short trek off the pavement made me realize two things. One, the aforementioned suspension is an extremely good fit. Two, build quality needs to be improved. I heard several cracking noises and other suspicious sounds you normally wouldn't expect from a vehicle starting at $90,000. Prepare to pay $97,250 for an Adventure model that adds nicer materials, ventilated seats, Meridian audio system and motorized tonneau cover. Oh, and if you want more range, like around 640 kilometres, the larger 180-kWh battery will cost you an extra $14,000.
More Fun to Come
Other than questionable build quality, the new Rivian R1T has everything you want and more—styling, performance, capability, driving dynamics, technology, interior refinement and versatility. A bunch of other companies should use it as inspiration.
I'm looking forward to spending more time with the R1T, back home, in typical Canadian weather and road conditions. Hopefully it will be the real deal, too, not a pre-production model like the one I got to drive for this first test.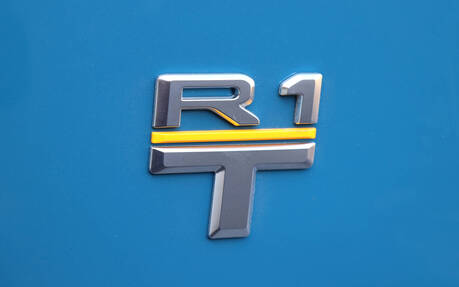 Test drive report
Test model

2022 Rivian R1T

Trim level
Adventure Package
Price range
$90,000 – $97,250
Price as tested
97 250 $
Warranty (basic)
5 years/100,000 km
Warranty (powertrain)
8 years/280,000 km
Fuel economy (city/highway/observed)
N/A
Options
N/A
Competitive models
2022 GMC Hummer EV, 2022 Tesla Cybertruck
Strong points

Power and capability
Range
Design and layout
Interior finish

Weak points

Heavy weight
Build quality issues
High price vs. US model

Editor's rating
Fuel economy
The heavy and high-powered R1T is not an efficient EV.
Comfort
The air suspension contributes to exceptional ride quality.
Performance
An unbeatable pickup.
Infotainment
The state-of-the-art interface boasts superb graphics.
Driving
You never get the feeling that you're driving a truck.
Overall
Some build quality issues aside, the all-new R1T is a fantastic vehicle.