Oddball Italian Supercar From the "Father of Disco" is Now for Sale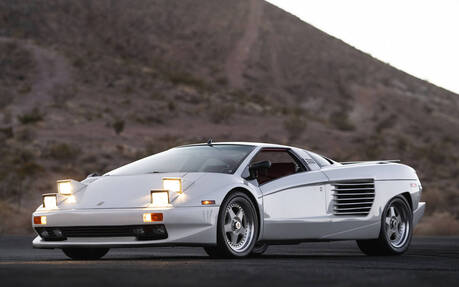 Renowned Italian composer, songwriter, record producer and disc jockey Giorgio Moroder, a.k.a. the "Father of Disco," was financially involved in the development of the Cizeta supercar in the late 1980s.
We bring this up because later this month at the RM Sotheby's auction in Phoenix, Arizona, the original Cizeta-Moroder V16T prototype—initially unveiled in December 1988 at an upscale event hosted by TV host Jay Leno and subsequently displayed at major auto shows on both sides of the Atlantic—will be up for sale.
Former Lamborghini test driver and engineer Claudio Zampolli, who founded Cizeta, called on Bertone's Marcello Gandini to design the body. Remember, the latter is the same man who penned the Countach LP 500 prototype.
As a direct response to the more established Italian exotic cars, the Cizeta-Moroder V16T boasted a naturally aspirated 6.0-litre V16 engine in a transversal position behind the cockpit. It generated around 520 horsepower—the aforementioned Countach topped at 449 horsepower—and just shy of 400 pound-feet of torque.
Styling clearly put function over form. Notable features included quad pop-up lights in a stacked layout up front, large air intakes on the sides and a strange-looking, upswept tail that seemed to come from another car.
Zampolli and Moroder quickly parted ways, and only eight production units—simply called Cizeta V16T—were manufactured before the company went bankrupt in 1994. The only car to wear a "Cizeta-Moroder" badge is still owned by the Father of Disco, and it stands out with unique intakes, turn signals, mirrors and interior appointments.
The car was apparently refurbished in 2018 and currently has a mere 322 kilometres on the clock. It could go for over $1 million USD.
Collectors who aren't a fan of the Cizeta will have other famous cars to bid on at the RM Sotheby's auction including a 1971 Ferrari 365 GTS/4 Daytona Spider, 1995 Ferrari 512 M, 1978 Maserati Bora 4.9 1978 and 1981 DeLorean DMC-12.