2022 Hyundai Elantra N, Kona N to Start Just Under $40,000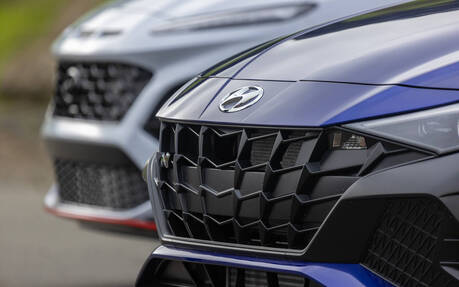 Hyundai and performance car enthusiasts who were eagerly awaiting pricing information for the brand's latest N models can now do some math.  
Let's start with the 2022 Elantra N sedan, whose turbocharged 2.0-litre four-cylinder engine delivers 276 horsepower (or 286 for 20 seconds with the N Grin Shift feature) and 289 pound-feet of torque. It's priced at $37,199 with the standard six-speed manual transmission or $38,799 with the eight-speed dual-clutch transmission. Destination is an extra $1,725.
Goodies include an electronic limited-slip differential, Variable Exhaust Valve System, raised rear spoiler, unique 19-inch alloy wheels on 245-series Michelin Pilot Sport 4S tires, electronically controlled suspension and various chassis reinforcements. Let's not forget the N-exclusive racing seats, sport steering wheel and performance-focused displays inside.
The Hyundai Elantra N will go head-to-head with the fully redesigned, 271-horsepower 2022 Subaru WRX, which has yet to be priced (the outgoing model starts at $29,995). It comes with FWD only, mind you, whereas the Japanese sedan boasts AWD. You'll also find the Elantra N sandwiched between cars like the 228-horsepower Volkswagen Jetta GLI (retailing from $31,595) and the upcoming 2023 Honda Civic Type R producing over 300 horsepower.
If you prefer hot hatches, Hyundai now has you covered with the 2022 Kona N. This model starts at $39,999 plus $1,825 destination.
Powered by the same engine as the Elantra N and similarly available with FWD only, the most explosive of all Konas has just one transmission choice, namely the eight-speed dual-clutch unit. The recipe is pretty much the same including an electronic limited-slip differential, sport exhaust, unique 19-inch wheels, Pirelli P Zero (235/40R19) tires, chassis reinforcements, high-performance brakes and more.
In the cockpit, the new digital cluster features an exclusive racing head-up display which Hyundai says adds a game-like dimension to the driving experience under N or Sport drive modes. The new infotainment system's 'N mode design' communicates updates such as lap time and N track maps that help place the driver's location within the track along with other information. And just like racing video games, the Kona N has customizable N buttons that can be set to toggle custom modes.
In terms of performance and pricing, the Hyundai Kona N stands above the Volkswagen Golf GTI (FWD) and Mazda CX-30 Turbo (AWD). The German hot hatch starts at $31,495 for 2022 and delivers 241 ponies, while the Japanese crossover costs $37,700 and gives you up to 250 horsepower.