Chrysler Airflow Comes Back, 80 Years Later, as EV Crossover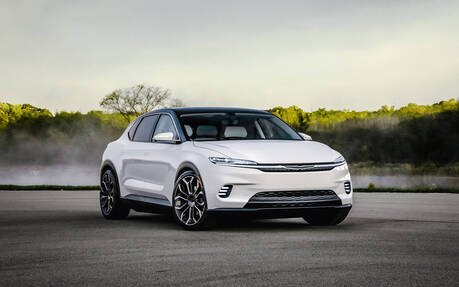 Stellantis pulled back the curtain at CES 2022 in Las Vegas, unveiling the Chrysler Airflow Concept and providing a peek at the brand's electrification strategy. This is from an automaker that for many years kept launching V8 engines instead of going green.
You may have heard the name before. The original Chrysler Airflow, introduced nearly 80 years ago, was a highly innovative and aerodynamic automobile. It only seems fitting to bring it back for a sleek EV concept that admittedly looks almost production-ready.
Here we have a midsize crossover that will soon become Chrysler's first fully electric model—and a much different vehicle from the late Fiat 500e. Soon? Well, not really. The Airflow is expected to hit the road sometime in 2025, three years before the entire Chrysler lineup is set to become exclusively battery-powered.
Two 150kW motors combine to drive both axles and create an AWD setup. Maximum range is estimated at 350-400 miles, or about 560-640 kilometres. Battery size has yet to be confirmed, although a picture showing a fully charged 118kWh pack can be found in the press kit we received.
More important, at least to Stellantis, is the new STLA Brain modular architecture, which can underpin a wide variety of models and supports over-the-air updates. The cockpit is fully digital and configurable, while Level 3 autonomous driving capability is featured.
The modern and airy cabin of the Chrysler Airflow boasts a large glass roof, floating seats and gorgeous ambient lighting. And get this: each of the seven occupants has their own digital display.
From a design standpoint, the Airflow impresses with a low-slung, curvy body. It looks clean and understated while making a powerful statement at the same time with a long and wide stance anchored by massive 22-inch wheels. The multi-LED units at both ends are beautiful, too. Some of them will even turn aqua blue when the vehicle is charging.
EV Shift and a Brand's Rebirth
Reviving the Airflow nameplate is brilliant not only because it fits this vehicle, but also because it arrives like a breath of fresh air for Chrysler, a brand that is literally on the brink of extinction, agonizing with an old-school sedan and a pair of minivans at a time when SUVs and trucks are all the rage.
By the way, the 300, Pacifica and Grand Caravan are built right here in Canada, and terminating any one of them could open the door to new products from Chrysler. Incidentally, rumour has it that the minivan plant in Windsor, Ontario could be turned into an EV battery factory.
Chrysler's rebirth inevitably goes through electrification, but it also likely means that future products will be premium models that Chrysler will sell at a higher price to get a bigger return on its investment in new technologies. We'll see EVs from Jeep, Ram and Dodge, as well, including a battery-driven full-size pickup and muscle car. The times sure are a-changing.