Patent Filings Confirm Ford's Upcoming Multi-Function Tailgate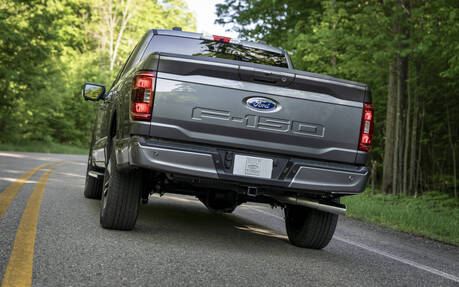 The Ford F-150 may be the best-selling vehicle in North America, but there's always room for improvement, and it could take a page from some of its competitors when it comes to the tailgate.
Unlike the Honda Ridgeline, Ram 1500, Chevrolet Silverado and GMC Sierra, Ford's full-size pickup doesn't feature a so-called multi-function tailgate with split-opening capability. It looks like the company wants to fix that in the near future, however.
Confirming rumours that started to spread not long after the next-generation F-150 debuted in June 2020, patent filings in the U.S. uncovered by Carbuzz indicate that Ford is working on an innovative new tailgate design.
No name is attached to it yet, but the documents show a tailgate split into three sections. The middle one has hinges on the right side allowing it to open sideways. It would be lighter to manipulate than a full tailgate which you have to fold down, thus making access to the cargo bed easier.
Furthermore, instead of using the retractable step and grab handle that are built into the tailgate, you could just put your foot on the bumper step since it would no longer be blocked by the tailgate. Based on one of the pictures, said step could also flip open and rest on the tow hitch bar to create a larger platform.
Ford's system would include the possibility to open the tailgate or the middle section remotely, either using the keyfob or a button inside the cabin. We imagine the F-150 would retain the option of turning the tailgate into a work surface when folded down (with a phone or tablet holder, pencil holders, a ruler and a cupholder).
What do you think? Would you rather have GM's Multi-Flex/MultiPro tailgate or Ram's 60/40-split barn doors?
Watch: 2021 Ford F-150 PowerBoost Review