The Car Guide's Best Buys for 2022: Honda Civic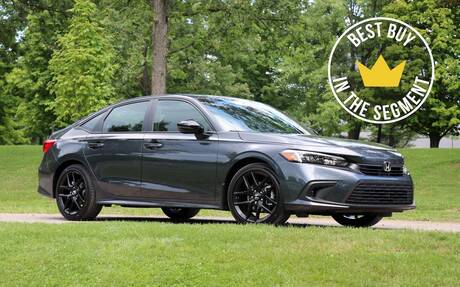 Every year, The Car Guide unveils a list of Best Buys covering all the different vehicle categories in the industry.
In 2022, the best-selling car in Canada for 24 years is back at the top of the compact car segment, representing a more affordable and more fun to drive option than most SUVs and crossovers that are dominating the market.
Yep, the Honda Civic secures our Best Buy award, ending the Mazda3's reign. With improved handling and a much more attractive interior, the completely redesigned Civic perfectly addresses what customers want in a compact car.
It was a really tight race, mind you. The Mazda3 is still a better driver and offers a larger selection of engines along with available AWD, but the frustrating infotainment system and the hatchback's poor visibility in the rear are impossible to ignore.
Third place in the segment goes to the Toyota Corolla. While less engaging than the two aforementioned rivals, it shines with bulletproof reliability and great fuel economy, even more so in hybrid variant. For a long-term purchase, the Corolla remains a safe bet.
Watch: 2022 Honda Civic Overview