2022 Ford F-150 Lightning vs. 2024 Chevrolet
Silverado EV

: The Numbers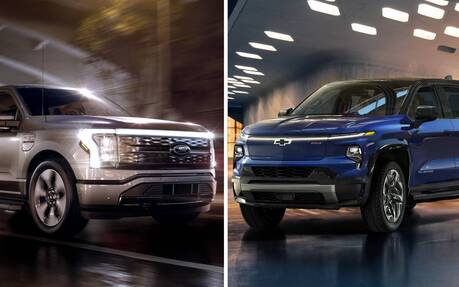 Prepare for a fierce battle in the EV pickup segment when the recently unveiled Chevrolet Silverado EV hits the market to take on the Ford F-150 Lightning.
Which one is better at what? To help settle the debate, we've compared the numbers and specs for these two models. Here's what we found…
Range: Silverado EV
Both the WT and RST variants of the Chevy Silverado EV promise up to 640 kilometres of range with a full charge. They also feature DC fast charging capabilities of up to 350kW, enabling approximately 160 km of range to be added in 10 minutes based on GM estimates.
The Ford F-150 Lightning offers two different battery packs, one with a range of 370 kilometres and another with 483 kilometres. On a 150-kW DC fast charger, the extended-range variant is targeted to get up to 87 kilometres of range in 10 minutes and charge from 15-80 percent in about 41 minutes.
Clearly, the Silverado EV has the edge in terms of range and charging capability.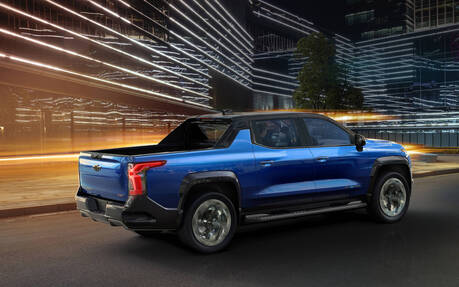 Performance: Tie
The Silverado EV WT generates 510 horsepower and 615 pound-feet of torque, while the top-line RST packs more than 660 horsepower and 780 pound-feet of torque in available Wide Open Watts Max Power Mode.
The F-150 Lightning's output depends on the battery—either 426 horsepower or 563 horsepower—but peak torque is 775 pound-feet in both cases. As a result, it can sprint from 0-100 km/h in as little as 4.5 seconds, matching the time of the Chevy truck.
Capability: Tie
The Silverado EV WT and RST models can tow up to 8,000 pounds and 10,000 pounds, respectively. Payload is 1,200 pounds or 1,300 pounds depending on your selection. Chevrolet will add a max tow package at a later date, allowing owners to tow up to 20,000 pounds.
Meanwhile, the F-150 Lightning can pull 7,700 pounds or 10,000 pounds depending on the battery. Maximum payload is 2,000 pounds with the standard-range battery.
Both electric pickups feature a large trunk under the hood, with Ford advertising 400 litres of storage. Chevrolet has yet to specify how spacious its front trunk actually is.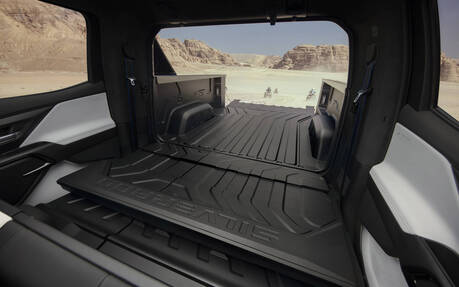 Technology: Tie
In Lariat or Platinum trim, the Ford F-150 Lightning offers SYNC 4 infotainment on a 15.5-inch centre touchscreen. The digital instrument panel is 12 inches in size. Wireless Apple CarPlay and Android Auto are included along with the Amazon Alexa assistant. All these features and more can be improved over time with over-the-air software updates called Ford Power-Up.
Not to be outdone, the Silverado EV is available with a 17-inch centre screen paired with an 11-inch driver instrument display and 14-inch head-up display. It marks the brand's first application of Ultifi, a new Linux-based platform that separates the vehicle's software from the hardware to enable rapid and frequent software updates.
Safety: Tie
When it comes to safety, the F-150 Lightning and Silverado EV rely on similar technologies. Both are available with hands-free driving capability (called Blue Cruise and Super Cruise, respectively), numerous standard driver assistance features and even a charging system that could power your home in the event of an outage.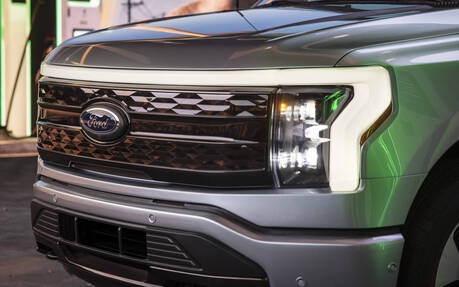 Price: TBD
The Silverado EV WT will start at $54,748 (including $2,300 destination), while the fully loaded RST will cost a whopping $122,248. Other models will be announced later including an off-road-oriented Trail Boss.
Over at Ford, the commercial-grade Lightning Pro model retails from $58,000, while the retail variant (in XLT, Lariat and Platinum trim levels) starts at $68,000. Deliveries are scheduled to begin this spring.
The Silverado EV may have a cheaper base model than the F-150 Lightning, but we're talking about a 2024 pickup vs. a 2022. Some pricing information is missing, too, so we can't pick a winner, here.
Warranty: Tie
These two American electric pickups offer the same coverage including:
Limited vehicle warranty: 3 years/60,000 km
Powertrain warranty: 5 years/100,000 km
EV components warranty: 8 years/160,000 km
There's a difference in terms of corrosion coverage, mind you. Ford's warranty is good for 5 years/unlimited km, while Chevy's is 6 years/160,000 km.
Watch: 2022 Ford F-150 Lightning Overview