Noboby Wants This 1976 Corvette Turned Into a Dodge Viper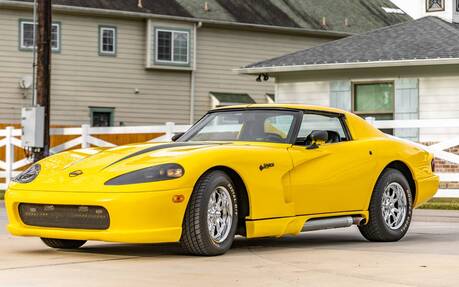 Some tuners out there get a kick out of transforming certain cars into models from another era. The results are often intriguing yet rarely convincing, like this 2013 Dodge Challenger turned into a 1969 Charger Daytona.
Want another example? In the mid-1990s, someone decided to take a third-generation 1976 Chevrolet Corvette and make a copy of one of the most famous sports cars of the decade: the Dodge Viper.
We bring it up today because the unique creation was recently listed on Bring a Trailer where it failed to meet the reserve set by the seller, topping at only $15,000 USD from 44 different bids.
The car was originally finished in Bright Yellow, and during prior ownership it was modified with a Saber body kit produced by RPM Design Limited of Newport, Rhode Island. It features Viper-inspired headlights, fender vents and taillight treatments. Additional touches include body-coloured T-top panels, shaved door handles, electric door actuators, side-exit exhaust and Saber badging.
The 15-inch wheels with a chrome finish are fitted with staggered-width Cooper Cobra Radial G/T tires and connected to Bilstein shocks. Slotted and drilled disc brakes are equipped at all four corners. Meanwhile, black leather upholstery with yellow inserts cover the bucket seats and door panels. There's an aftermarket stereo that is said to be inoperative.
The five-digit odometer indicates that nearly 8,000 miles (12,800 km) have been driven since completion of the build. True mileage is unknown, however.
As for the engine of the 1976 Corvette, it was replaced by a 5.7-litre V8 that received a number of aftermarket components. Output is not specified, but for comparison, the first-gen Viper had an 8.0-litre V10 engine producing 400 horsepower. Also, the three-speed automatic transmission has nothing to do with the six-speed manual chosen by Dodge.
Interesting story: Chrysler filed a lawsuit because it deemed the design to be too close to the Viper, so certain body panels had to be either removed or redesigned. That's why the car you see on these pictures isn't such a faithful replica.