Cadillac Announces Fearsome Escalade-V for 2023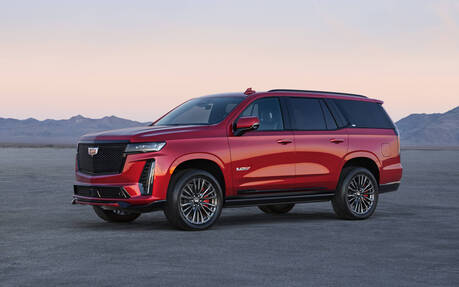 Months of speculation have finally come to an end. Well, sort of. Cadillac today officially announced a more powerful and more prestigious Escalade model that will expand its V-Series lineup for 2023.
Of course, it's the first Cadillac SUV to ever don the high-performance V-Series badge. 
Unfortunately, the company gave us only a few pictures, which show a pre-production model. The real production model along with full specifications will be revealed this spring.
As you can see, the new Escalade-V stands out from other Escalade models with a unique front fascia including a different grille, side intakes, lower bumper and lip spoiler.
There are V-Series badges on the front doors, a number of black accents all around the vehicle and quad tailpipes in the rear. The wheels are larger and have a distinctive, blacked-out look. They are wrapped in high-performance Bridgestone tires and slowed down by Brembo brakes with red-painted callipers.
The only picture of the interior shows a V-Series badge on the steering wheel.
Now, what about the engine under the hood? It could be the same supercharged 6.2-litre V8 that motivates the 2022 Cadillac CT5-V Blackwing, which delivers 668 horsepower and 659 pound-feet of torque. The main difference would be the 10-speed automatic transmission and all-wheel drive system shared with the standard, 420-horsepower Escalade.
As mentioned earlier, we'll know for sure when Cadillac announces all the specs this spring. Keep following The Car Guide between now and then.
Watch: The Cadillac CT4-V Blackwing and CT5-V Blackwing are Mean Machines