First 2023 Chevy Corvette Z06 Sold for $4.5M at Auction
One of the biggest reveals of 2021 in the auto industry was arguably the new 2023 Chevrolet Corvette Z06. Production won't start until this summer at the Bowling Green assembly plant in Kentucky, except for the very first unit which was up for bid on Saturday.
As it turned out, the car sold for $3.6 million USD—or $4.59 million CAD at the current exchange rate—during the Barrett-Jackson Scottsdale auction in Arizona. Pricing for the new Corvette Z06 has yet to be announced, by the way.
All the proceeds of the sale will be going to Operation Homefront, a U.S. charity that supports military families. The buyer, Rick Hendrick, also got his hands on the first C8 Corvette two years ago after bidding $3 million USD ($3.9 million CAD) on it.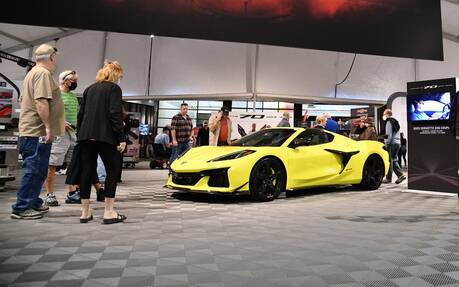 The 2023 Corvette Z06 sold by Barrett-Jackson was a 70th Anniversary Edition flashing exclusive wheels, badges and more as a celebration of the iconic American sports car's seven decades on the market.
Stingray vs Z06
When compared with the Corvette Stingray, the new Z06 boasts a wider, more sculpted body inspired by the Corvette C8.R race car. It has redesigned air intakes that maximize cooling performance and a unique, reconfigurable rear spoiler that improves high-speed stability and cornering capability on a track.
The standard 20-inch front and 21-inch rear forged aluminum "spider" wheels are the largest wheels ever fitted to a production Corvette. A carbon fibre aero package is also available, adding a larger front splitter and other fancy stuff for increased downforce and maneuverability.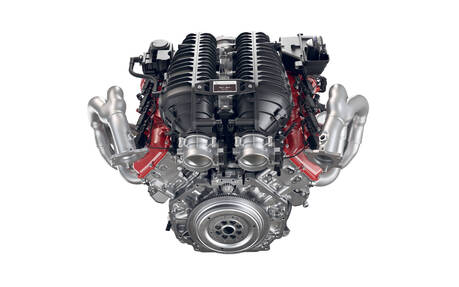 Of course, the real highlight is the all-new 5.5-litre DOHC LT6 V8 featuring a flat-plane crankshaft. The engine can rev all the way to 8,600 rpm, just 200 rpm after the full 670 horsepower are unleashed, making it the highest horsepower, naturally aspirated V8 to ever hit the market in a production car. It delivers just 460 pound-feet of torque at 6,300 rpm, however, well short of the 650 pound-feet we used to have.
Chevrolet engineers worked on the eight-speed dual-clutch transmission, giving it unique calibration. They did the same with the suspension, including the Magnetic Ride Control 4.0 system. The brakes are naturally larger than those on the Stingray, as well.
Watch: 2023 Chevrolet Corvette Z06 Debuts With 670 Horsepower