2022 Mazda CX-9: Is the New CX-90 Coming Yet?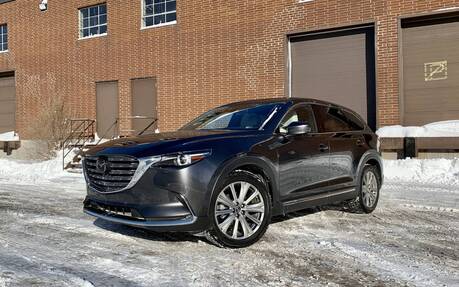 The original Mazda CX-9 debuted exactly 15 years ago. While a V6 engine used to sit under the hood, a turbocharged four-cylinder mill has powered the second generation of the three-row midsize crossover since 2016.
Time has now taken its toll and a serious revamp is in order if Mazda is to keep challenging the best-sellers in the segment. Here's a recap of our recent test drive with a 2022 Mazda CX-9 Signature.
Not Really Better Than a V6
As mentioned above, the current-generation CX-9 boasts a turbocharged 2.5-litre four-cylinder engine called Skyactiv-G. It delivers 250 horsepower and 320 pound-feet of torque when fed with premium gasoline (93 octane). If you settle for regular gas (87 octane), output and torque will be down to 227 horsepower and 310 pound-feet, respectively.  
While a good fit in other Mazda products, this engine is not ideally suited for the larger CX-9. Sure, fuel consumption is a bit lower than V6-powered competitors, but the price difference between regular and premium gasoline means you'll actually pay more at the pump. After more than 500 kilometres in winter conditions, our tester was averaging 12 L/100 km. The official rating from Natural Resources Canada is 10.5 L/100 km.
Mazda's four-cylinder crossover is also handicapped when it comes to towing. Models like the Honda Pilot, Kia Telluride and Ford Explorer will easily tow up to 5,000 pounds, but the CX-9 can do no better than 3,500 pounds. It's not designed for construction workers, of course, but many families with a boat or camping trailer need to stay away from the CX-9.
Let's go back to fuel economy, shall we? The Ford Explorer and Toyota Highlander stand out from the competition with an available hybrid powertrain, but Mazda has no such thing to offer at the moment. The company does plan to replace the CX-9 with the all-new CX-90 for 2023, and that one will have a choice of two turbocharged straight-six engines including one that will be part of a plug-in hybrid system. Intrigued? We definitely are.
As for driving dynamics, the Mazda CX-9 is quite pleasant overall. The six-speed automatic transmission is nothing special, but it does a commendable job. And while the brand's "Zoom-Zoom" philosophy is harder to appreciate behind the wheel of the CX-9, steering is fairly precise and the drive is more car-like than with conventional SUVs.
A New HMI Sure Would Be Nice
The current design dates back to 2016, and despite a few updates for the 2021.5 model year (that's right), the CX-9 could use a fresh start.
Make no mistake: the interior is refined and full of classy materials, but it's also showing its age. The human-machine interface and infotainment system desperately need to be overhauled, though Apple CarPlay and Android Auto compatibility is included. Mazda believes that touchscreens lead to more driving distractions than a rotary controller on the console, but we beg to differ.  
Hopefully the aforementioned CX-90 will fix that. It will join the equally new 2023 Mazda CX-50 (which carries over the CX-5's interface) and be followed by a smaller, two-row crossover called CX-70.
Six or Seven Passengers
Most CX-9 trim levels feature seating for seven, but the top-line Kuro and Signature have second-row captain's chairs separated by a centre console and can only accommodate six passengers. For a family of five, that means someone must sit in the third row, thereby greatly affecting cargo capacity.
If that's your case, then you must turn to a GS, GS-L or GT model equipped with the more convenient albeit less comfortable second-row bench. Your call.
Test drive report
Test model

2022 Mazda CX-9

Trim level
Signature TI
Price range
$40,550 – $52,550
Price as tested
52 550 $
Warranty (basic)
3 years/unlimited
Warranty (powertrain)
5 years/unlimited
Fuel economy (city/highway/observed)
11,6 / 9,1 / 12,0 L/100km
Options
N/A
Competitive models
2022 Chevrolet Traverse, 2022 Ford Explorer, 2022 Hyundai Palisade, 2022 Kia Telluride, 2022 Nissan Pathfinder, 2022 Subaru Ascent, 2022 Toyota Highlander, 2022 Volkswagen Atlas, 2022 GMC Acadia, 2022 Honda Pilot
Strong points

Car-like driving dynamics
Refined interior

Weak points

No V6 engine or hybrid variant
Aging model
Six-passenger configuration is less practical

Editor's rating
Fuel economy
Fuel consumption is reasonable, but with the turbo-four preferring premium gasoline, you'll pay more money at the pump than with a V6.
Comfort
Comfort in the first and second row is really good.
Performance
For this type of vehicle, a naturally aspirated V6 would be a better fit.
Infotainment
No touchscreen plus a rotary controller on the centre console make for a frustrating human-machine interface.
Driving
The CX-9 is pleasant to drive and almost car-like.
Overall
Once a competitive offering in the three-row midsize SUV segment, the CX-9 is now old and outmatched.