2023 Audi S8: A Powerful Swan Song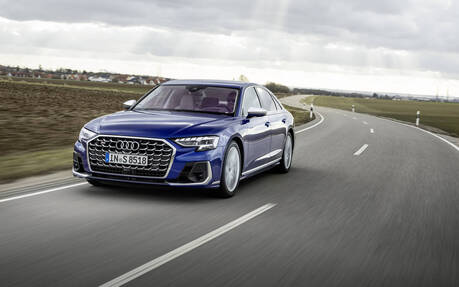 Audi's transition to electric mobility is progressing quite nicely. The German brand recently announced plans to introduce a battery-powered full-size sedan using the Grand Sphere concept as inspiration.
Consequently, the 2023 Audi A8 and S8 models return with no major changes beyond their mildly updated exterior. The Car Guide was among the media on hand in Munich a couple of days ago for a test drive of the refreshed S8. We also learned that the Canadian-spec A8 will no longer be available with a V8 or in plug-in hybrid configuration.
Similar to the A8, the S8 boasts more assertive looks with a redesigned and chrome-accented Singleframe grille. Like every other S model from Audi, the mirror caps are finished in aluminum. In the rear, the four oval-shaped tailpipes make a powerful statement, too.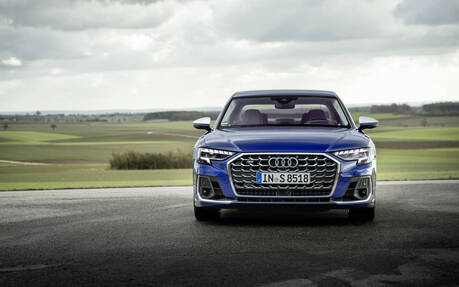 Regal Comfort at High Speeds
On those autobahn stretches with no speed limit, the 2023 Audi S8 proved supremely stable and comfortable, even when travelling at more than 200 km/h and watching the scenery disappear in an instant.
What makes this 563-horsepower, twin-turbocharged luxury sedan so charming is an ability to remain cool, calm and collected at all times. Everything feels smooth and effortless no matter what you do with it.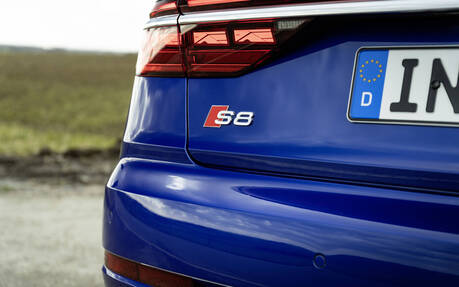 Adaptive Suspension, Active Steering
When leaving the highway for some secondary road, the Audi S8 uses its standard adaptive air suspension to take control of the pavement, especially when set to Dynamic mode which limits body roll to a mere 2.5 degrees.
Handling is remarkably sharp for such a large automobile. The air suspension does an excellent job of keeping weight transfers in check, so you feel almost zero nosedive during emergency braking manoeuvres. As you exit a corner, the standard sport rear differential makes a huge difference by sending more torque to the outside wheel. I'm not saying the S8 rides just like on rails, but it's close.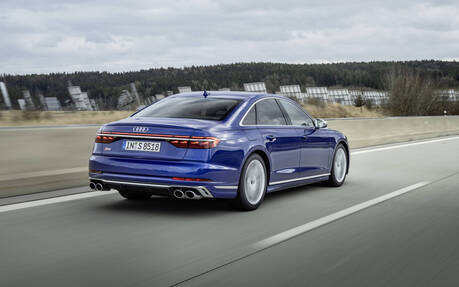 When attacking super-twisty roads or driving downtown, the four-wheel active steering system considerably shortens the turning radius, giving the car A4-like agility. The suspension's predictive algorithms also work wonders in these circumstances.
In Comfort mode at speeds up to 30 km/h, a camera scans the road for bumps and electromechanical actuators precondition the suspension to help mitigate the impact. Also, with the "elevated entry" function, the body is quickly raised by up to 50 mm when you pull the door handle, allowing easier entry and exit.
Fully Digital Cockpit
Inside, the 2023 Audi S8 features a fully digital interface with a configurable instrument panel and a dual-touchscreen setup for infotainment and HVAC control. So while it nears the end of the line, this car has all the modern tech you want.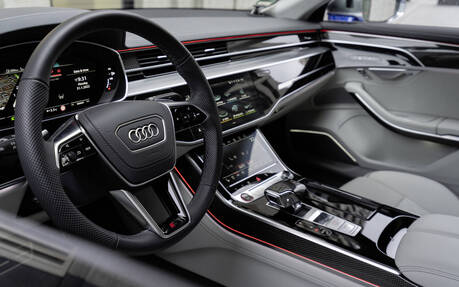 Of course, it's not as flamboyant as comparable BMW 7 Series and Mercedes-Benz S-Class models, but the S8 is a wonderful package of luxury, comfort and performance. Its future EV successor should be no different.
Test drive report
Test model

2023 Audi A8

Trim level
S8L
Price range
$99,900 – $153,200
Price as tested
153 200 $
Warranty (basic)
4 years/80,000 km
Warranty (powertrain)
4 years/80,000 km
Fuel economy (city/highway/observed)
17,6 / 10,7 / 14,2 L/100km
Options
N/A
Competitive models
2022 BMW 7 Series M760Li xDrive, 2022 Mercedes-Benz S-Class 580 4MATIC Sedan, 2022 Porsche Panamera Turbo S
Strong points

Excellent handling
Gobs of power and torque
Standard adaptive air suspension
Standard sport rear differential

Weak points

Heavy weight
High price
Expensive options
Looks more conservative than rivals

Editor's rating
Fuel economy
Not great but on par with the level of performance.
Comfort
The adaptive air suspension ensures regal comfort on the road.
Performance
Performance is beautifully explosive.
Infotainment
The fully digital interface proves very user-friendly.
Driving
Handling is remarkably sharp for such a large automobile.
Overall
Audi's sporty full-size sedan looks sharp and elegant.